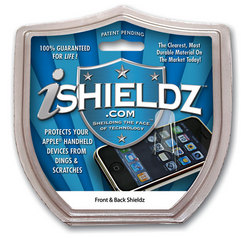 Since that time we have gone on to design systems to protect a broad array of devices which include iPod's, GPS's, gaming devices, PDA's, digital cameras and laptop computers
La Verne, California (PRWEB) October 22, 2008
John Martinez, Director of Sales and Marketing for eShields LLC., a Southern California based company, is pleased to announce it will begin shipment of its patented iShieldz Screen Protector Kit for the new T-Mobile G1 cell phone by Google.
"According to sources customers that preordered their G1's prior to October 3, 2008 can expect delivery by October 22, 2008 and customers that ordered by October 21, 2008 can expect delivery by November 10, 2008", says John Martinez. Mr. Martinez went on further to say, "even though the earliest customers have not even received their new phones yet we wanted our iShieldz Protection Kit to be the first one available for them to use to protect their new investment".
eShields LLC became well known to the cell phone accessories industry when it was one of the first to market with a screen protection system for the first generation Apple iPhone. "Since that time we have gone on to design systems to protect a broad array of devices which include iPod's, GPS's, gaming devices, PDA's, digital cameras and laptop computers". "In addition all of our products come with Lifetime Guarantee", says Martinez.
eShields was the brainchild of Andrew Mason, President and CEO, who was a leading installer in Southern California utilizing a thin, clear, durable film that protected the front-end of luxury automobiles, which spawned the 'clear bra' revolution.
In 2006, with the proliferation of touch screen devices, Mason identified that because of its durability and translucence a refined version of the same film used for the 'clear bra' could be used to protect the multitude of touch screen devices already in the market place and the many to come.
To find out more about eShields, LLC and the patented iShieldz Screen Protection Kits., you can visit:
http://www.iShieldz.com
John Martinez
Director, Sales and Marketing
eShields, LLC
Contact:
John Martinez
(866) 323-9330 Toll Free
(909) 596-9845 Direct
2061 Wright Ave.
Suite A5
La Verne, CA 91750
USA
###