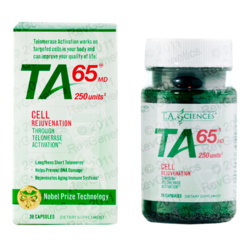 We are astonished at the study, and I personally believe that Maria Blasco and Bruno Bernardes are the definite leaders in the field of telomerase
Miami, Florida (PRWEB) May 25, 2012
A May 15th publication in the Journal of Molecular Medicine, examines a new telomerase therapy by Maria Blasco and Bruno Bernardes. The researchers working with the Spanish National Cancer Research Centre, had initially realized that the telomerase enzyme in cells may hold the key to a better life with a reduced incidence of diseases. This prompted them to see if they could actually test this theory by using gene therapy, instead of altering animals' genes permanently from a point prior to birth.
Until this attempt, it was inconceivable that older animal's cells could be modified or treated, because of the difficulty introducing telomerase into genes. At this point, only certain molecules such as the TA-65 dietary supplement could activate natural telomerase in cells. In the recently published study, Belasco's team cleverly used a DNA-modified virus that replaced the normal virus mechanism with the telomerase enzyme. The virus shell with the telomerase enzyme, was then introduced to the animals and the virus began to repair the old mouse telomeres, delaying the mouse biological clock, thereby increasing its lifespan.
This was the first known use of a telomerase gene therapy in an animal that actually repaired DNA and allowed it to extend its life by 24%. This proof of concept study demonstrates the power of telomerase in cells to repair them in place and not only maximize health benefits but increases the lifespan of mice. This breakthrough study and the researchers conclude that this new study shows that it is possible to use telomerase to extend an animal's life, and how the advances of gene therapy can make profound changes in the lifespan and health of a subject.
RevGenetics congratulates Maria Blasco and Bruno Bernardes on superb their work. "We are astonished at the study, and I personally believe that Maria Blasco and Bruno Bernardes are the definite leaders in the field of telomerase" said Anthony Loera, RevGenetics president and longevity advocate. We also note that while this was done on a mouse, we hope to see this type of Gene therapy will become commonplace and available to most people within 20 years. We expect the methods used will be refined, tested and approved by scientists, the FDA and government institutions within this time period.
At this point, this proof of concept using telomerase is impressive. Until it becomes an acceptable medical procedure and FDA approves it and other new drugs based on this breakthrough study, RevGenetics proposes taking TA-65 supplements that Blasco tested in 2011, and was shown to activate telomerase safely. TA-65 is available without a doctor's prescription from RevGenetics (http://www.RevGenetics.com/TA-65) and shipped worldwide. TA-65 is a product that was tested by Maria Blasco in 2011 to confirm it was a safe telomerase activator, and provided no increase in cancer incidence. Other activators such as Nicotine increase the incidence of Cancer by 50 fold when it comes in direct contact with gum and buccal mucosa tissues, according to a study in the New England Journal of Medicine.
"Because we believe that TA-65 is the safest product that activates telomerase in human cells, we have made it possible to conveniently purchase TA-65 online and have it shipped worldwide." said Loera. "and we thank Maria Blasco for proving that telomerase can extend a subjects lifespan, en vivo.". RevGenetics will be holding a Memorial day sale on TA-65 which will end on Monday at midnight.
About RevGenetics
RevGenetics, is a company focused on providing and developing small molecule herbal products for overall health based on the activation of genes that have shown to provide health benefits and longevity in independent University studies. RevGenetics prides itself in providing independently tested products, as well as the marketing and distribution of unique health and nutritional products. RevGenetics currently provides the only micronized resveratrol bulk powder measuring 1.5 microns for high absorption, that has been considered by L'Oreal and used by international manufacturers. TA-65® Is a registered trademark of Telomerase Activation Sciences, Inc. and RevGenetics (http://www.RevGenetics.com/TA-65) is the worlds top online source for TA-65®. Sign up for a free chance to win a TA-65 bottle in our monthly drawing at our website http://ta-65supplement.com/ or this link: (Free TA-65)