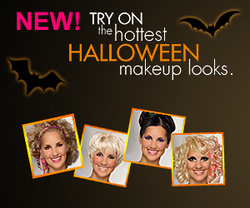 La Jolla, CA (PRWEB) October 25, 2010
Women looking for this year's scariest, sexiest Halloween looks are invited to creep over to the Halloween Looks section at TAAZ.com, the leader in virtual makeover technology. On the award-winning web site, women can virtually try on different Halloween looks on their own photos. She simply visits TAAZ.com, uploads her photo and clicks on different Halloween looks and TAAZ applies the look on her face – instantly, virtually, realistically.
Halloween Looks that can be tried on include Wicked Witch, Gothic Glam, Sexy Vampire, Zombie, Lady Gaga, White Queen, Mad Hatter, Moulin Rouge, Cleopatra and Avatar. After trying on these looks, women can achieve the looks using detailed tutorials on TAAZ.com. The results are stunning - and give Halloween party-goers and hostesses an easy way to find out how they would look without the fuss and muss. Women can also create a Halloween Video with different looks to share with their friends.
In addition to Halloween Looks, on TAAZ.com women can try on thousands of makeup products, hundreds of celebrity hairstyles, sunglasses, contact lenses and even re-color their own hair virtually.
Halloween Looks is powered by advanced computer-vision technology that is proprietary to TAAZ's virtual makeovers. The results are realistic, useful and fun.
About TAAZ.com
TAAZ.com is the award-winning virtual makeover web site where women "try on" the latest celebrity hairstyles, makeup products, red carpet looks, sunglasses and more. You can even change your own hair color. Millions of women have fun trying on new looks on TAAZ.com. Just upload your own photo and see yourself transformed with the click of a mouse. Then share it with friends on Facebook, Twitter, e-mail or the TAAZ Gallery. TAAZ makeovers are very realistic, easy to use and fun. TAAZ has been featured in many leading online and print publications and TV including Oprah Magazine, Self, Shopsmart, Women's Wear Daily, Women's World, MTV, CBS, NBC and Fox. Learn more at http://www.TAAZ.com.
TAAZ makeover technology also powers the makeover experiences of top beauty brands and media companies, including InStyle, People, People EnEspanol, Virgilio, Gala, iVillage, Estee Lauder, Revlon, Topshop and more.
# # #