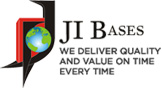 We are so confident in the quality of our table bases that we offer a free sample to any qualified restaurant furniture reseller who is willing to test them
St. Louis, MO (PRWEB) January 23, 2013
As part of its ongoing effort to establish JI Bases as the leading global manufacturer of restaurant table bases, Jacobs International has been granted a twenty year license from the People's Republic of China to do business as a wholly owned foreign enterprise. The agreement includes a twenty year export license and allows the company to be even more aggressive in expanding manufacturing capacity for its line of professional grade restaurant table bases.
"We are very excited to be honored with this license from the Chinese government and look forward to continuing the development and production of high-quality, cast iron table bases in our factory in Shenzhen, China," said Michael Jacobs, President of Jacobs International.
As a wholly owned foreign enterprise (W.O.F.E.), Jacobs International can operate as a U.S. Company without any Chinese partners providing it with full control of the manufacturing and delivery process. This allows the company to differentiate itself by offering furniture resellers 24 hour shipping, simple packaging, and exceptional quality control that is unparalleled in the industry.
"We want to dispel the theory that Chinese made components are inferior in quality. In fact, we are so confident in the quality of our table bases that we offer a free sample to any qualified restaurant furniture reseller who is willing to test them," adds Jacobs.
U.S. sales, marketing and distribution of the table bases is primarily handled by the JI Bases headquarters in St. Louis, Missouri. The centrally located distribution center maintains an extensive inventory so that orders can ship within 24 hours and be delivered to either coast within a few days.
About Jacobs International
Jacobs International is a provider of commercial furniture for the hospitality, food service and contract furniture markets that specializes in creating global fulfillment solutions. The company maintains manufacturing facilities and its corporate headquarters in Shenzhen, China as well as a regional office in Hong Kong SAR and sales and distribution center in St. Louis, Missouri, USA.
About JI Bases
Based in St. Louis, Missouri, JI Bases specializes in the distribution of restaurant table bases and related items to the restaurant and food service industries. The company is heavily focused on the sales, distribution and support for the entire line of table bases manufactured by Jacobs International. For more information please visit http://www.jibases.com or call 888-792-2275.