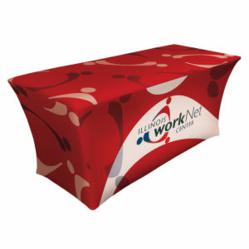 First impressions are lasting impressions
Atlanta, GA (PRWEB) February 10, 2012
The new four color process Ultrafit Table Cover is now being offered by Promology101, an Atlanta based Promotional Marketing Company. The Ultrafit table cover is helping exhibitors increase booth traffic and generate more leads at tradeshows. "In a crowded Tradeshow full of competition, our clients continue to ask us how we can help them stand out", says Joe Boccelli, V.P. of Sales and marketing. "The Ultrafit Table cover is a great way to make that first impression a lasting one. Tradeshow attendees simply will not visit a booth if it does not look professional and welcoming. The style and four color process provides our clients an opportunity to really stand out from the competition."
Promology101 surveyed 100 clients and prospects and when asked to rate the "top 3 reasons attendees will visit a both", 65% said booth appearance was the most important followed by the tradeshow giveaway item and 3rd was the appearance of the associates working the booth.
"A successful tradeshow takes a great deal of time and planning so we want to help our clients generate the highest return on their trade show investment and it all starts with the appearance", says Lauren Dexter, Inside Sales Manager at Promology101.
Promology101, a full service promotional marketing company, works with hundreds of clients providing products and ideas to elevate their tradeshow success. For more information please contact Joe Boccelli at 1.888.658.2418 or 404.351.9146 or visit http://www.promology101.com.
###