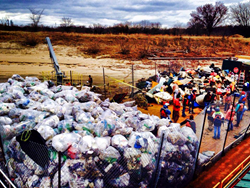 Not only will the tablets help us be more efficient as a non-profit, but being able to use the tablets outside in the rain and mud is icing on the cake.
Hiawatha, Iowa (PRWEB) April 28, 2015
MobileDemand, a global provider of enterprise-ready, all-weather Windows® tablets, has donated twelve xTablet C1200 rugged convertible tablets to Illinois-based Living Lands & Waters. As a 501(c)(3) non-profit organization, Living Lands & Waters (LL&W) is the only "industrial strength" river cleanup organization in the world.
LL&W's mission is to aid in the protection, preservation and restoration of the natural environment of the nation's major rivers and watersheds; to expand awareness of environmental issues and responsibility encompassing rivers; and to create a desire and opportunity for citizens to take an active role in helping to make a cleaner river environment.
The convertible Windows tablets will be used as a part of LL&W's educational workshops aboard the floating classroom. Each workshop exposes students to the varied dynamics of the river systems and teaches students about the value of clean water, waste reduction and ways to reduce harmful human impact on rivers. With the rugged devices, students will now be able to take a digital "post-survey" in the field, saving time and energy for the LL&W staff and reducing dependence on paper. The tablets will also be used for volunteer events, including cleanups, tree plantings, invasive removal projects and nursery volunteer days.
"We are absolutely thrilled about MobileDemand's generosity to donate rugged convertible tablets to support our conservation and cleanup efforts throughout the United States," said Chad Pregracke, founder of LL&W. "Not only will the tablets help us be more efficient as a non-profit, but being able to use the tablets outside in the rain and mud is icing on the cake."
Since its establishment in 1998, LL&W has removed over 8 million pounds of debris that had been impairing fish, bird and wildlife habitats and polluting the waterways. Together with a volunteer force of over 80,000 volunteers, the LL&W team has helped clean 23 rivers in 20 states. The team is comprised of thirteen full-time employees and an equipment base of four barges, two towboats, five workboats, five trucks, a semi, a crane and 2 skid loaders, traveling port to port up to nine months a year hosting community-based river cleanups, tree plantings, and educational workshops for educators and students.
Following the 2008 flood of Cedar Rapids, Iowa, hometown of MobileDemand, LL&W volunteered countless hours of their time to help clean the various waterways in and around Cedar Rapids. Causing a majority of the damage was the Cedar River, which crested on Friday, June 13th at 31.12 feet, 19 feet above the declared flood stage. Over 6,000 homes, business and non-profits were damaged in the record flooding. LL&W played a major role in the cleaning and revitalization of Cedar Rapids.
About MobileDemand
With a broad family of rugged tablets to choose from, MobileDemand is your one-stop shop for powerful, all-weather Windows® tablets. xTablet ruggedized devices are the ideal tools for improving operational efficiency and allowing mobile workers to make better, quicker business decisions at the point of interaction. They offer a high resolution, all-light readable touch screen, functionality of a full Microsoft Windows 7 or 8 OS and the power of an Intel processor to deliver performance at a lower cost and enable greater efficiency and productivity in the field. Tablets start at only $595. Additional information about MobileDemand is available at http://www.RuggedTabletPC.com.