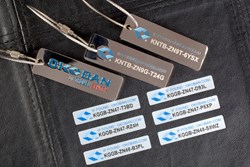 Now, with Okoban, any lost tablet or other valuable can find its owner. Often, the lost valuable finds the owner before the owner realizes the item is lost.
Atlanta, GA (PRWEB) September 24, 2013
For many people tablets have become an integral part of life. Their loss or damage could be devastating. Fortunately, the following "Tablet Protection Guide" from Mystufflostandfound.com will dramatically reduce the likelihood of damage and greatly increase the chances of recovering a lost tablet.
SECURING DATA - Losing the data stored on a tablet can be more disastrous and costly than the lost tablet itself.
1. Backup, backup, backup. Data can be backed up on portable hard drives, copied on home desktop computers or stored with a verified encrypted cloud based backup service accessible anywhere there is an internet connection. The important point here is that data should be backed up and backed up often.
2. To prevent unauthorized access to sensitive data, devices that have the ability to encrypt data should have that capability turned on.
3. Password protection should be enabled for the tablet, Internet access, and e-mail. Passwords should not be stored on the device and auto-fill functions should be disabled.
4. Any remote capabilities should be turned off when not in use.
THE SPYWARE THREAT – Spyware, malware and viruses are getting more sophisticated and malicious all the time. An ounce of prevention is worth much more than a pound of cure in this area.
1. Beware of suspicious applications and links. Devices that have the capability to prevent installing "non-market" apps should have that capability activated.
2. Only trustworthy anti-virus software should be installed. Some fake anti-virus programs actually contain viruses.
3. Extreme caution should be exercised while accessing Wi-Fi hotspots.
PREVENTING PHYSICAL DAMAGE - Spills and being dropped are two of the most common causes of physical damage to tablets.
1. Water damage can be avoided by taking extra care anywhere near water. Damage typically occurs during rain storms, from spills while dining and when tablets are taken into the bathroom. Waterproof cases are available and in a pinch a sealed plastic bag may not look classy but will work.
2. Extreme temperatures damage digital equipment and should be avoided. Think parked car in the hot sun or on a cold icy ski run.
PROTECTION FROM LOSS - Mobile devices go missing at an alarming rate. According to the June 30, 2008 Ponemon Institute study for Dell Computer, "Airport Insecurity: The Case of the Missing & Lost Laptops", there are 12,000 laptops lost at U.S. airport security checkpoints each week – nearly 2,000 each day. Sadly, only about one-third are returned because finding the owner is so difficult. The rest are salvaged.
The problem is not that lost mobile devices are never found; they almost always get found by someone. The problem is that most likely the finder has no easy way to contact the owner and they remain lost.
Okoban® tracker tags from http://www.mystufflostandfound.com solve the problem by connecting finders with owners quickly, securely and privately, anywhere in the world. Finders simply enter the tracker tag's Unique Identification (UID) code and the recovery location on the Okoban website. The system then immediately notifies the owner, anywhere in the world, with a secure email and text message of the found valuable and its recovery location. There is no cost to the finder and there are no annual fees.
Okoban tracker tags can protect phones, laptops, tablets, passports, luggage, purses, wallets, cameras, keys, credit cards, pets and other valuables.
"Now, with Okoban, any lost tablet or other valuable can find its owner," says Gordon Burns, CEO of My Stuff Lost and Found. "Often, the lost valuable finds the owner before the owner realizes the item is lost," says Burns. "Okoban works even if the device is turned off or has no battery power, offering added protection for smart mobile devices. The finder does not need to risk being tracked with a lost phone or tablet by turning the device on to try to find the owner," says Burns.
Okoban is part of a global lost and found service that is accessible by anyone plus serves over 400 airline companies in more than 2,200+ airports and travel industry "frequent finders", institutional lost and founds including TSA, rail, maritime, coach, rental car and hotel companies.
My Stuff Lost and Found, founded in 2012, provides convenient worldwide online sales and service of Okoban's sturdy tracker tags for laptops, phones, tablets, passports, luggage, cameras, credit cards, pets and other valuables.
Mystufflostandfound.com is the online gateway to Okoban's tracking service for valuables and free global lost and found service for life. Okoban is purchased online at http://www.mystufflostandfound.com.