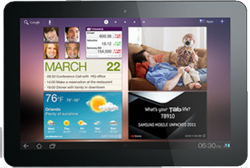 Kfar Saba, Israel (PRWEB) July 20, 2011
In 2011 GfK Hungaria has won long-term tender, and within the frame of this research thousands of people are being surveyed with a new method. For this survey, GfK Hungaria applies a really innovative method by using tablet PC-s, Samsung Galaxy Tabs for the questioning. Dooblo was chosen to provides SurveyToGo survey software which supports the development of questionnaires and follow-up of the fieldwork on the Android tablets.
The advantages of the method which is used at the first time by GfK Hungaria:
The devices are small, easy, the questioning process can be done easily in an uncomfortable standing position, too.
This innovative survey method makes people more interested, and therefore they are more willing to respond.
The program manages easily the different language versions, and also manages quotas, so the interviewers' work can be harmonized.
More questionnaires are available at the same time, the interviewer chooses the right one.
The questionnaire can be improved, modified by refreshing the program.
The devices are connected to the server with mobile intenet access.
Questioning doesn't need internet connection all the time, but if the network is available, the whole questionnaire is automatically uploaded. As a result, any data will not be lost.
Both the tool and the software set the GPS coordinates of the places of questioning.
Pictures, videos and text notes can be included and visualised in the questionnaire.
The new version can be easily installed as an Android survey app directly from the Google app market.
click here to learn more about SurveyToGo
About GfK Hungaria
GfK Hungaria Market Research Institute is the member of the GfK Group. The GfK Group is No. 4 market organization worldwide. Its activities cover the three business sectors of Custom Research, Retail and Technology and Media. The Group has 115 operational companies and a current total of approx. 10,000 employees who offer market research services for 100 countries.
GfK Hungaria provides full-scale market research services from collecting and analysing data to consulting which is essential to strategic decision making. GfK Groups' aim is to support companies' marketing decisions and to bring them closer to consumers through our information services. The GfK does not only provide data, studies, graphs, but also delivers information which are useful in business planning and decision making processes based on market knowledge and reliable research results. We put emphasis on our consultative role, which means that we give answers to the Client's questions on the basis of all available information and knowledge in a frame of personal consultation. GfK Hungaria is your partner in developing and implementing a successful marketing strategy.
Year of foundation: 1989
Number of employees: 100
Director: Ákos Kozák
Contact Details:
GfK Hungaria Market Research Institute
Visegrádi u.31.
H-1132 Budapest
Phone: +36 1 452 3050
Fax: +36 1 320 1776
Web: http://www.gfk.hu
Facebook: http://www.facebook.com/gfkhungaria
Youtube: http://www.youtube.com/user/Gfkhungaria
Linkedin: http://www.linkedin.com/company/gfk-hungaria
About Dooblo
Based in Kefar Sava, Israel, privately-held Dooblo has been developing award-winning mobile data collection & analysis software since 2001. The SurveyToGo solution provides data collecting enterprises & market research firms all the Mobile PDA | Android | Laptop data collection and analysis services they need. Dooblo's mobile data collection & analysis tools provide real-time forms & surveys creation and deployment, field agents management and of course ultra flexible and customizable reports, Removing stress and paperwork from the enterprise data collection process while saving time and money, improving data quality and supplying real-time insights & reports. For more information, please visit http://www.dooblo.net.
Contact Details:
To obtain additional information about SurveyToGo, please contact any of the following:
Israel Main Offices
Dooblo
20 Hataas st. - Beit Hapaamon
Kefar Sava
Tel: +972 (9) 7678998
###