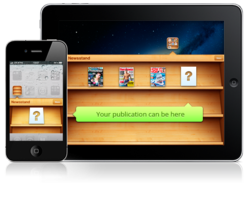 In an effort to provide competitive digital publishing application services for everyone, the concept of TapEdition was developed and launched.
New York, NY (PRWEB) April 12, 2012
TapEdition recently announced the launch of their innovative tablet publishing platform located at http://www.tapedition.com
TapEdition's fully interactive platform facilitates digital publishing across all mobile device and tablet types, including publishing on the iPad.
Today's tablet users have access to digital magazines, newspapers, journals, ebooks, brochures, books and more in the palm of their hands. With increasing tablet usage, what does the future hold for the publishing industry?
A recent study released by Next Issue Media predicts that nearly $3 billion will be spent on electronic subscriptions by the year 2014. In addition, customers are more likely to renew existing magazine subscriptions if interactive editions are available. And, nearly 1/3 of readers are selecting bundled subscription options; digital and print mixes. To compete in the publishing space moving forward, well known publications must be available in both traditional print and digital formats.
The invention of the tablet opened up doors for publishers of all types and all experience levels.
Today, anyone with an innovative idea can become published. That is, if they utilize the right technology to design, develop and launch their app vision.
"In an effort to provide competitive digital publishing application services for everyone, the concept of TapEdition was developed and launched. TapEdition's innovative platform breathes life into digital publications through interactive features embedded into the publisher's content," said Ari Silverman, Product Manager for TapEdition.
Some of TapEdition's unique features include:

Interactivity- Publishers can select and include interactive features, otherwise known as "Hot Spots" into their manuscripts. As readers tap 'live' portions of each page, they will be directed to videos, photo galleries, audio streams, RSS feeds, and external links. In addition, readers can access features such as bookmarking, article sharing, commenting, page zooming and 2-page viewing, providing a superior tablet experience for the user.
Reader Features- Page flipping, page zoom, publication previews, in-app purchase capability, and the ability to renew subscriptions, are just a few of the more popular features designed specifically for readers.
Issues Library- Subscribers can preview all available issues of a publication, can purchase selected issues and view prior purchases with a few simple taps.
Table of Contents- Subscribers will have tablet access to all articles available in the current and previous publications.
White Labeling Solutions- Attracts publishers with numerous publications or developers wishing to use the solution to sell directly to their clients.
Users can build and preview digital applications on TapEdition's platform without any financial obligation. Once they choose publish their app, competitive pricing packages are available for inclusion in Apple's Newsstand.
To build your free custom newsstand app in minutes, not weeks, visit http://www.TapEdition.com.