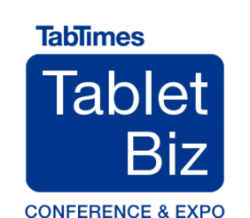 New York, NY (PRWEB) September 07, 2012
TabTimes, the tablet business news and information source, announces TabTimes TabletBiz conference & expo – Tablet solutions for business, a new event for business and IT managers to be held on November 27 at the Metropolitan Pavilion in New York City.
Just one month after the launch of Windows 8, TabletBiz will bring together an impressive array of tablet solution providers including tablet device and accessories manufacturers; platform, security and management service providers; and corporate app developers.
These innovative companies will share tablet success stories with insights and lessons learned that attendees can put to work in their own organizations. Presenters will show businesses, hospitals, schools and governments how to pick the right tablet solutions, and how to assemble them for the most efficient tablet integration.
In addition to showcase presentations, a full schedule of panel sessions, drafted with the help of the TabTimes Content Advisory Board, will tackle the many challenges organizations face when considering a tablet project, including:

What OS should organizations select as a tablet platform: iOS, Windows 8 or Android?
What kind of devices will best help mobile workers and managers?
How can organizations best protect proprietary data and operational information used on their tablets?
What are the best approaches to developing the most efficient apps for an organization?
Which technologies and resources should organizations consider when developing tablet apps?
TabletBiz will also feature keynote speakers who are emerging leaders in the tablet ecosystem, including:

Santiago Becerra, Chairman, CEO and Co-founder of Roambi by MeLLmo. Roambi is a ground-breaking business intelligence app that transforms data into dashboard-style mobile analytics for the iPad. CNN Money calls its one of the 5 best apps for business;
Milind Gadekar, CEO and Co-founder of CloudOn, a cutting-edge, mobile workspace that enables workers to use Microsoft Office applications on tablets. Its innovative iPad and Android app makes life easier for users to access files on Box and Dropbox. CloudOn recently launched in 60 countries.
As the very first conference for the tablet industry, TabletBiz is a not-to-be-missed event for all managers considering a tablet deployment or tablet app development.
See the event's agenda and growing list of speakers and panelists at TabletBiz.com.
To attend the conference, take advantage of our limited time offer of early bird tickets for only $125.
To sponsor or exhibit your products and services, contact TabTimes Publisher Rick Vandervoorn at rick (at) tabtimes (dot) com.
To suggest a speaker, contact Conference Chair Steven Lang at steven.lang (at) tabtimes (dot) com.
About TabTimes
TabTimes provides information and marketing solutions to the tablet ecosystem. It publishes "TabTimes – Tablets for business", as an iPad app, as a web app for tablets, as a daily email newsletter and as a website at TabTimes.com. It also organizes the Tablet Strategy and TabletBiz conferences devoted to tablet uses by organizations. TabTimes is based in New York, with editors in the San Francisco Bay Area and in London, UK. For more information, see TabTimes.com/about.