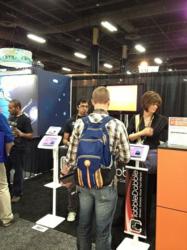 We're thrilled with the qualified leads we captured using TabbleDabble's easy tablet app
Jennifer Maskrey, Lilitab
San Francisco, CA (PRWEB) April 02, 2013
QuickTapLead enabled both companies to compile a list of leads without renting proprietary equipment or collecting the usual stack of business cards. Along with standard contact details, the app was configured to ask a number of survey questions with branching and skip logic to easily qualify leads and make follow up effortless. Booth visitors were instantly emailed product information and found the lead capture forms visually appealing, easy to complete and fun.
During the show, QuickTapLead tracked the progress of individual sales reps, provided real-time analytics with graphical reports and sent lead data to Salesforce CRM. Unlike traditional trade show software, QuickTapLead can take someone with no technical experience less than 10 minutes to set up and costs as little as 10 cents per lead.
Lilitab tablet kiosks are versatile, modular and easy to customize. Lilitab's design encourages custom display of tablets and precise locations in exhibits. Freestanding, tabletop, surface mount and wall mount options accommodate any booth size requirement. Keyboard and printer shelves are also available as added accessories. Lilitab offers custom branding, banner mounts and eye-catching backdrops to promote special events or seasonal activities.
Lilitab tablet kiosks quickly and easily set up at events and in exhibits without special tools or assistance. The freestanding Lilitab Standard conveniently ships in an optional ATA travel case, rolling in and out of exhibit halls and conferences without the use of dollies or extra event staff. Nightly break down of booths entails no more than removing the secure tablet enclosure head unit, leaving the remaining kiosk components and the exhibit intact.
Lilitab tablet kiosks securely enclose any 10" tablet (i.e. Apple® iPads, Samsung® Galaxy Tabs, Microsoft® Surface), and swivel, tilt and rotate for optimum viewing and interaction. The patented design allows for pass through power and constant tablet charging, eliminating downtime for exhibit critical functions.
TabbleDabble, headquartered in Toronto, Ontario, provides businesses with interactive touch screen solutions for lead capture and data collection by building leading edge technology for mobile tablets. For more information, visit http://www.tabbledabble.com or call +1 416 548 4191.
Lilitab, based in San Francisco, California, is a group of designers, engineers and business people passionate about the use of tablet computers in public environments. With their compelling interface, compact form-factor and economical price-point, there are all kinds of new and unique uses for putting interactivity into the public space. Founded in 2011 by Adam Aronson, an award winning kiosk designer, Lilitab is committed to delivering the most secure, functional and stylish security enclosures for any tablet. For more information visit http://www.lilitab.com or call 888 705 0190.
Lilitab and TabbleDabble combined talents to create a smart lead capture solution for trade shows and conferences, gaining meaningful data from qualified and interested leads at Exhibitor 2013.