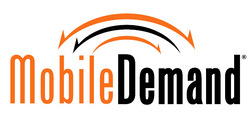 Box Canyon is a prime example of how the xTablet PC can increase productivity, and ultimately save both time and money
Cedar Rapids, IA (PRWEB) May 27, 2008
Box Canyon Dairy, a 2,500-acre dairy in Wendell, Idaho, recently partnered with rugged Tablet PC manufacturer MobileDemand and agricultural industry software provider ProfitSource to implement a mobile computing system that improved the efficiency of daily operations and provided access to the information needed to give each individual cow the veterinary attention it needs.
This simple implementation has resulted in significant time savings on the dairy that have helped streamline operations and reduce errors.
Scott Haag, general manager of Box Canyon Dairy recognized the need for a more streamlined agriculture operations process after creating the daily instructions for his employees, breeders and vets, began to take up 2 to 3 hours of his day. He also wanted to find a more efficient process for his employees to locate the cows that needed treatment and to keep track of those treatments.
After trying a hand-held, palm tablet, he quickly realized that it lacked the power and versatility he was looking for. Instead, he was hoping to find a rugged mobile Tablet PC that could run a mobile version of DairyQuest, a software program developed by Wisconsin-based ProfitSource that he'd been using to help manage and maintain his dairy records system in this agricultural environment.
"I realized that in order to implement a more efficient process in this rugged environment, I would need a mobile version of the DairyQuest software program and a more powerful Tablet PC that could withstand the work conditions," said Haag.
Recognizing the opportunity for a mobile version of software, Lee McCauley, president of ProfitSource quickly developed a Tablet PC version of DairyQuest. He then began searching for a mobile platform that could survive the harsh environment and fulfill the operational requirements. He found what he was looking for in the MobileDemand xTablet series.
The MobileDemand xTablet rugged Tablet PC provided Box Canyon with the ability to run DairyQuest in the field and give them access to all the information necessary to make decisions regarding veterinary treatment of animals while standing right next to them.
"Box Canyon is a prime example of how the xTablet PC can increase productivity, and ultimately save both time and money," said Matt Miller, president of MobileDemand. "With the xTablet PC, Box Canyon is now able to upload all of the day's relevant data onto the rugged Tablet PC, and instead of looking for cows by their numbers and sorting them in pens, dairy employees are able to identify cows through the RFID tag in the ears of the cows. They use an RFID wand connected to the xTablet Tablet PC."
"I gained an additional 2 hours in my day to do something else," said Haag. "As for my employees, it cuts in half the amount of time they spend looking for animals."
"We went from three tablets to five tablets to eight tablets," said Haag. "I get to the office at 6 a.m. and by 8 a.m. all the tablets are gone and in use. We've never had any problems, they've performed flawlessly," said Haag. "They take a beating and they just keep going and going and we need that for our operation."
Haag has been so impressed with the software and the Tablet PC that he plans on finding other ways to integrate the technology into his operations.
For more information about this implementation, visit http://www.RuggedTabletPC.com to read the full case study with photographs and watch a case study video.
MobileDemand offers rugged Tablet PCs for a variety of vertical industries that provide a lower total cost of ownership over non-rugged computers; supported by actual customer experience and factual independent research. MobileDemand elevates itself by uniquely offering the combination of a total complement of mounts and accessories, flexibility built into their systems, superior and personalized customer service, and customer focused engineering - all to help customers best satisfy their mobile computing needs. Additional information is available on the Internet at the MobileDemand web-site.
ProfitSource develops software solutions to make your agribusiness more profitable. ProfitSource has been providing software solutions to Agriculture for more than 20 years. Our mission is to provide the highest quality software solutions to the Agricultural industry to enhance farm profitability. Additional information is available on the Internet at the ProfitSource web-site.
MobileDemand, xTablet, and xView are registered trademarks or trademarks of MobileDemand, LC. All other brands, products, or service names are or may be trademarks of their respective owners.
###