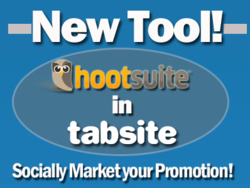 Indianapolis, IN (PRWEB) November 28, 2012
Power your Facebook Page promotion with TabSite and HootSuite!
TabSite, the industry leader in Facebook page management and promotion tools, today announced ability for Facebook page managers to spread the word about their company contest or deal offer using HootSuite. Users are able to schedule messages to multiple social networks with this new HootSuite integration within TabSite Engagement Apps.
Now all TabSite users have the ability to access their HootSuite account right from within the TabSite Manager setup of any Facebook page Engagement App. The integration of Hootsuite into TabSite offers ability to post messages about your Facebook page promotion to services including:

Facebook Pages
Twitter
LinkedIn
WordPress
Google +
& Facebook Profiles
TabSite automatically pre-populates the tab Smart URL into any new message post. This URL enables mobile and tablet users to be able to access the Facebook tab, as well as desktop users. With this Smart, mobile-friendly URL being added automatically, it makes the process of creating a post simple and seamless.
Best Practices for Marketing Promotion Messages:
Schedule multiple posts to various social platforms to alert users to your promotion
Create unique shorter posts for Twitter and longer posts (150-200 character) with images for Facebook
Create posts to go live on your WordPress blog and Google +
Make sure to create follow-up posts reminding fans / followers of the promotion and when it ends
Available in all TabSite Engagement Apps, the Hootsuite integration empowers brand marketers already using HootSuite with an efficient means to promote their promotion across multiple social channels.
___________________________
About TabSite
Founded in 2010, TabSite was established to meet the growing demands of digital marketers seeking to leverage Facebook. The company's suite of custom content solutions and social engagement applications inspire fan participation, drive traffic and increase business exposure among thousands of businesses, agencies and partner affiliates worldwide. For more information on TabSite, please visit http://www.tabsite.com.