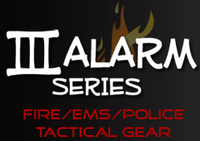 Southern Pines, NC (PRWEB) July 26, 2010
Fire departments, EMS, law enforcement and other first responders have a new choice in custom tactical apparel. North Carolina-based Whisper Knits, Inc. has introduced the "III Alarm Series," a new line of "Tactical Apparel" (http://www.3alarmseries.com/) specifically designed for fire departments, EMS and law enforcement departments.
The III Alarm Series is a unique custom apparel line that features high-quality construction, sturdy design, and maximum comfort for emergency responders in the field. Tactical gear products include custom polos, a "Job Shirt" and other custom clothing.
The Tactical Polo -- available in navy, black, heather grey and white – is manufactured from 100% combed ring-spun cotton pique. It features a no-curl collar; a 3-button placket with loop at the bottom for mic or sunglasses; mic clip pockets on each shoulder; and a reinforced dual pen pocket on the left sleeve. The Tactical Polo is available in men's and ladies' standard sizes.
The navy "Job Shirt" is made with a cotton-poly fleece. It features a no-curl denim collar, mic clips, a dual pen pocket, hand warmer pockets, a Velcro breast pocket and sturdy locker loop.
Best of all, the III Alarm Series is an affordable apparel line for law enforcement, EMS and fire departments concerned about tight budgets. The tactical polo shirts start at just $12.50 per shirt and compare with other fire, EMS and law enforcement brands.
Emergency responder apparel can be customized with a department logo. Embroidered apparel is perfect for station wear, tactical gear and other first responder gear. The message to emergency services departments is: "Bring us your logo and we'll make you look good."
III Alarm Series tactical apparel and custom apparel can be viewed online at 3 Alarm Series (http://www.3alarmseries.com/ ).
Whisper Knits is a premier manufacturer of high quality knit garments. The company has operated since 1976, with headquarters in Moore County, N.C. The III Alarm Series of tactical polo and other tactical apparel is a top choice of emergency responders.
Contact:
Whisper Knits, Inc.
175 E. New Hampshire
Southern Pines, N.C. 28387
(910) 246-0050
###