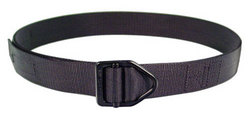 We have a lot of customers who don't necessarily carry a lot of accessories on their waist and were a little unsure of what size to order online—The Easy-Fit and Sport versions of the Instructor Belt suits them perfectly
Phoenix, AZ (PRWEB) May 17, 2010
Loyal supporters of Wilderness Tactical Products will tell you that the Original Instructor Belt has undergone few modifications in its 25+ years in existence, which makes the Easy-Fit model especially noteworthy.
Aimed at aiding consumers in the online ordering process that were not exactly sure which precisely sized Instructor Belt to order, or perhaps those looking to "grow into" their new accessory, chief designer and President of Wilderness Tactical provided a practical solution in the Easy-Fit Instructor Belt.
Designed with longer strips of Velcro fastening sewn in to allow for a range of variable sizing, The Easy-Fit Instructor Belt is available in 1 ½" widths and waist sizes ranging from Small 28"-33" with a median of 31", all the way up to 7X 64"-69" or a median of 67". The Easy-Fit Instructor Belt is best suited for individuals that do not carry a side weapon, but are still looking for the highest quality tactical belt on the market.
For those individuals who favor their popular "security friendly" Frequent Flyer Belt, the same options are also available in a wide range of sizes and in 1 ¼" widths under the Frequent Flyer Sport model.
"We have a lot of customers who don't necessarily carry a lot of accessories on their waist and were a little unsure of what size to order online—The Easy-Fit and Sport versions of the Instructor Belt suits them perfectly," explains Holzhaus.
With every branded product proudly manufactured in the USA, Wilderness Tactical Products' complete line of tactical equipment can be viewed and purchased online at http://www.TheWilderness.com
About Wilderness Tactical Products:
Wilderness Tactical Products, L.L.C. was founded in 1981 to fill the needs of people who demanded durable, high-quality tactical equipment. Their products have been tested from the icy mountain peaks of South America to the blistering Sonoran desert for nearly 30 years and they have proven themselves time and again. Wilderness Tactical Products' branded products have consistently been favorites of serious outdoors people, mountain climbers, search and rescue, American Pistol Institute and Gunsite personnel, as well as armed military, intelligence, police, instruction and civilian professionals around the world. For additional information please call 1-800-775-5650 or visit http://www.TheWilderness.com
Business contact:
Joan Holzhaus
602-242-4945
Media contact:
Jason W. Jantzen
Red Spot Marketing
602-282-0202
# # #