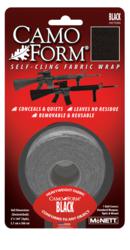 Our customers spoke, we listened and black Camo Form is now back on the shelves.
Bellingham, WA (PRWEB) January 25, 2012
McNett® announces the return of black Camo Form® to its line of camouflage wraps. Perfect for concealing and adding grip to tactical gear, black Camo Form is an essential accessory for members of the military and law enforcement as well as paintball and airsoft aficionados.
"We saw a huge increase in demand after halting production of black Camo Form," said Travis Huisman, chief operating officer at McNett. "Our customers spoke, we listened and black Camo Form is now back on the shelves."
Black Camo Form is now available via consumer and tactical retailers. The heavy-duty fabric wrap protects and camouflages weapons, knife handles, sheaths, scopes, binoculars, flashlights, ammo clips, tripods and more. Camo Form conforms to any shape and clings to itself as it's wrapped around the item. Camo Form improves grip and insulates hands from uncomfortably hot or cold surfaces, while also preventing items from slipping in the field or clanking against other objects. Camo Form is reusable and leaves no sticky residue.
"Feedback from the 2012 SHOT Show has been great," said Tanya Brooks, vice president of sales. "Tactical gear buyers were very excited to see the return of this very popular camouflage pattern."
Camo Form is also available in the following additional patterns: MultiCam®, Realtree AP™, Realtree Max-4®, Snow, Standard Desert, Digital Desert, Standard Woodland, Digital Woodland, Universal Camouflage, Mossy Oak® Brush, Mossy Oak® Shadow Grass, Mossy Oak® Break-Up and Mossy Oak® Obsession. For more information, please visit: http://www.mcnett.com/Camo-Form-Protective-Camouflage-Wrap-P44.aspx.
About McNett
For 30 years, McNett has manufactured and marketed the finest specialty products for the outdoor, sporting goods, dive and tactical gear markets. The company's products are known worldwide by consumers and original equipment manufacturers. McNett brands are available in over 70 countries and include: Outgo™, Gear Aid™, M Essentials™, Aquaseal®, Seam Grip® and Freesole®. For more information please visit http://www.McNett.com.
Contact:
David Wiggs
Marketing VP
360-671-2227
# # #