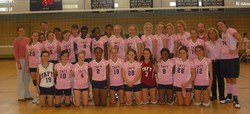 We took the effort to a new level this year, traveling to other schools to play in their Dig Pink games and getting the Taft community excited
Watertown, CT (Vocus) November 16, 2010
The Taft School volleyball team is doing good both on and off the court this season, raising over $1000 for the Side-Out Foundation, which supports breast cancer awareness and research, and finishing out the season with a 16-3 record and post-season tournament play. This is the third year that the team has taken the lead in raising money and awareness for this cause.
"We took the effort to a new level this year, traveling to other schools to play in their Dig Pink games and getting the Taft community excited," said volleyball coach and assistant athletic director Ginger O'Shea. "It was so rewarding and fun to see how the girls embraced the whole idea. It really energized us all and brought our team together in such a positive way."
The team found various ways to get involved, the most visible of which were the Dig Pink games. For these, the team wore pink uniforms and gathered donations based on how many "digs" or "kills" the players made during the game. In addition to organizing their own Dig Pink game on campus, the team played in Dig Pink games at Hotchkiss and Canterbury. In an emotional moment at the beginning of one of the games, the players and coaches came onto the court and spoke a name of someone they were playing in honor of who had or has cancer.
"This year as a senior on the varsity team, I was able to take a more active role with helping to raise money for the foundation," said Taft student Maegan Olmstead. "It is such a great cause and each year the players try to raise more money than the year before and have a great time doing it."
Alongside Olmstead, fellow senior Ebony Easley led a variety of fundraising activities this season that got Taft students, parents, faculty and staff involved. Other activities included a Jeans Day on campus, a volleyball tournament that invited Taft students and faculty to put together teams and compete against each other and a "Music Night" for faculty and staff that collected donations.
This has been an exciting season for the Taft volleyball team. In addition to the fundraising effort and upcoming post-season play, Coach O'Shea recently reached her 400th volleyball win for the Taft squad, a major milestone that was marked with huge crowds, students holding signs reading "400" and massive celebrations after the game. Also exciting, eight volleyball players earned the Team Academic Award presented by the American Volleyball Coaches Association, which honors academic excellence.
The Taft School is an independent boarding and day school for 588 boys and girls in grades nine through post graduate. Founded in 1890 by Horace Dutton Taft, younger brother of President William Howard Taft, the school moved to Watertown in 1893. More than a century later, its motto of service—Not to be served but to serve—remains central to the school's mission today.
###