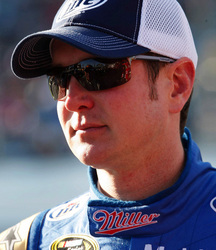 Weston, FL (Vocus) March 5, 2010
TAG Heuer Avant-Garde Eyewear has enlisted 2004 NASCAR Cup Champion and the driver of No. 2 Miller Lite Dodge, Kurt Busch, as its latest ambassador for TAG Heuer Eyewear. The eyewear brand and the driver are a natural fit, given TAG Heuer's long racing heritage. Many TAG Heuer sunglasses and eyeglasses are crafted to fit comfortably under a helmet, and feature names like "Speedway," "Curve," "Track" and the distinctive "Squadra," preferred by Kurt Busch.
Kurt is scheduled to race the entire NASCAR Cup season in his fifth consecutive season with the Penske Racing team. He is coming off one of his strongest years ever in 2009 with two wins, 10 top-five finishes and 21 top-10s – and looks forward to an even better 2010. For more information about Kurt, visit http://www.kurtbusch.com.
TAG Heuer – maker of high-end sports watches and chronographs since 1860 – has been applying the same standards for design and quality found in their timepieces to the creation of exceptional eyewear since 2002. All TAG Heuer Avant-Garde Eyewear lenses are shatter-resistant, ultra-light and provide 100% UV-A and UV-B protection. TAG Heuer Eyewear is available at authorized retailers nationwide. For more information on TAG Heuer Eyewear's full line of sunglasses and eyeglasses, and to locate authorized retailers, visit http://www.tagheuer.com/eyewear.
Press: For more information, please contact Stefanie Schoen at S3 Public Relations: 973.257.5533 or sschoen(at)s3s3s3(dot)com.
# # #