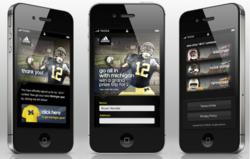 Tagga executed a rich cross-channel campaign leveraging mobile to better connect consumers across the entire media mix. Campaign results showed high engagements and strong conversion rates. - Nick Fisher, Marketing Manager for adidas SLD
Vancouver, BC (PRWEB) November 06, 2012
Tagga is pleased to announce the results of a recent cross-channel campaign developed in partnership with adidas SLD (Sports Licensed Division).
The primary objective of the campaign was to raise awareness and promote sales of adidas college football paraphernalia via Kohl's e-commerce sites in four key markets: Tennessee, Wisconsin, Nebraska and Michigan. The campaign was a co-branded initiative between Kohl's department stores and adidas, whereby Tagga was responsible for the design, development and deployment of the campaign leveraging its cloud-based cross-channel campaign software and labs division.
Starting on August 24th and ending September 15th, the campaign consisted of a cross-channel sweepstakes program where interested customers could enter the sweepstakes online via a branded landing page, or, in Kohl's department stores via texting a keyword to a short code and completing the entry form on a branded mobile optimized page. Once the sweepstakes entry form was completed, customers were presented with a success page that included a link to the Kohl's e-commerce store. Customers could then purchase adidas college football merchandise directly from their mobile or desktop devices. Prizing for the sweepstakes included college football team merchandise for each market and a grand-prize to see a game in each market (incl airfare and accommodations). Specifically, the prizes were one merchandise prize and one grand-prize awarded in each of the four markets.
Target customer groups were made aware of the sweepstakes via Kohl's department store signage (within the target markets), Kohls.com, Kohl's Facebook page, Kohl's email newsletter program. Additionally, adidas purchased advertising on Facebook and deal-focused desktop and social media sites.
"The campaign was hugely successful", said Amielle Lake, Chief Revenue Officer of Tagga. She added, "In just 21 days, we generated significant lifts on every avenue, from sales to brand engagement."
Official campaign results are as follows:

Over 13,000 entries across all four markets. For each entry, contestants entered their name, phone number, mail, and email address
Over 49,000 page views across all four sites
1,968 entries completed via SMS (directly in Kohl's department stores in four markets)
Drove an increase in sales between 30 and 100% across each market.
Tagga's Customer Profiling Engine delivered a detailed report of how each media property and channel within each market contributed to contest entries and other relevant points of engagement and conversion (e.g. Facebook referrals, in-store etc.) with respect to the campaign.
Of the campaign results and execution, Nick Fisher, Marketing Manager for adidas SLD had this to say. "Tagga executed a rich cross-channel campaign leveraging mobile to better connect consumers across the entire media mix. Campaign results showed high engagements and strong conversion rates." He concluded, "Best of all, we had a clear understanding of how each media property contributed to our overall campaign ROI."
Tagga services a growing clientele of consumer brands including Go Girl Energy Drinks, Lindt Chocolates, Red Bull, Stonyfield Farms, Bulk Barn, adidas and Dole Foods. Tagga actively partners with advertising technology companies and agencies to readily distribute its products.
For more information about Tagga, please visit http://www.tagga.com.
ABOUT TAGGA
Tagga's cross-channel campaign software enables marketers to connect and profile their customers across the entire media mix. We do this by integrating social, web and mobile technologies to connect brands to customers 24/7. As a result, marketers get higher customer conversion rates, better targeting, comprehensive profiling, and reduced cost per action over their traditional campaign methods. Tagga's customer profiling technology shows brands exactly who, where, how and when their customer interacted with their campaign. This means brands get customer information, not just data.
Press Contacts:
Amielle Lake, CRO & Founder
Amielle.lake(at)tagga(dot)com
@Tagga
+1.604.687.7979