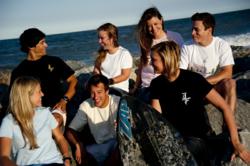 L Town was created not only to offer quality products, with an environmental focus, but to express meaningful, informative messages, hoping to create awareness, gratitude, and joy.
San Diego, CA (PRWEB) July 06, 2012
Tagless Threads features custom t-shirt client "L Town Surf and Earth" Company to be featured in their Client Spotlight Series for the months of June and July.
"The coastal community of Lewes, Delaware is the inspiration of our June/July Client Spotlight on L Town Surf and Earth Company. We think this company is so awesome that we chose to spotlight them for the months of June AND July! L Town was spearheaded by Corey Schab, who is one of the most laid back and gracious clients I have ever met. His thought process is based around the idea of respecting our environment and the people in it. I have personally had the opportunity to talk with Corey and if I had to describe him in one word it would be: respectable. L Town is truly one of those brands that you want to wear solely based on the meaning behind it. As a result of exceptional visual talent on the behalf of Mr. Schab, L Town fans are embellished with smart and exclusive hand-drawn designs. Passion for ethical business practices and respect towards our environment are both elements that L Town maintains. The marriage of these elements will undoubtedly continue to aid in their success of advocating the sustainability of a better environment and life for all." -Alissa Samperio//Co-Founder//Tagless Threads
L Town, short for "the town of Lewes, DE", symbolizes the relaxed and "chill" life of growing up in a small coastal community. This provided many opportunities, from the development of close friendships, to surfing, and created a laid-back, respectful attitude with a passion for the environment. We hope to convey this way of life through our purpose and our products. These products, as of March, 2011, are produced by Tagless Threads, an eco-friendly Screen Printing company, in hopes to contribute efforts toward sustainability, while striving to conserve our environment. So, wherever you live, coastal or inland, small town or city, may L Town inspire and give meaning to your everyday life.
"Honestly, it started as any present day, scientific method would, a Google search! Anyway, I wanted an Eco-friendly printing company with expertise in their operation and an understanding of ethics. After doing a little research to see what Tagless Threads had to offer and speaking with representatives, I decided that doing business with them would be a success. It truly adds to the interaction and experience to have people that want to help and join the move toward sustainability. An attractive characteristic is their use of water-based ink, a better choice environmentally, eliminating certain toxic chemicals during the screen printing process." -L Town Surf and Earth Company on Tagless Threads
L Town is a way of life. It is meant to symbolize the atmosphere of a coastal community, one with respect and passion for the environment and the appreciation of everyday existence. I incorporated the extended name, L Town Surf and Earth Company, to reflect the intent of supporting the environment. We offer Eco-friendly clothing, and as far as operating material, such as shipping supplies, paper, clothing tags, etc. We try to use as much recycled and post-consumer waste matter as possible. Every step taken is a step closer.
"L Town was created not only to offer quality products, with an environmental focus, but to express meaningful, informative messages, hoping to create awareness, gratitude, and joy." -L Town Surf and Earth Company
Tagless Threads is a Vista, California based company that provides custom shirts for events and professional businesses. Since 2006, Tagless Threads has consistently delivered quality custom t shirt printing and wow-filled experiences to their customers. Tagless Threads is a private family owned business. For more information on Tagless Threads, please call (800) 409-0695
For updates visit Tagless Threads Facebook
View Tagless Threads Reviews