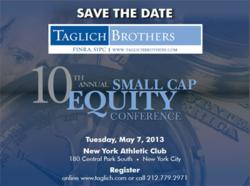 Aeolus Pharmaceuticals To Present At Taglich Brothers 10th Annual Small Cap Equity Conference
New York, NY (PRWEB) April 18, 2013
Taglich Brothers, Inc. is pleased to announce that John McManus, President & CEO and Russell Skibsted, CFO of Aeolus Pharmaceuticals (OTCQB: AOLS) will be presenting at their 10th Annual Small Cap Equity Conference May 7, 2013. The Conference will take place at the New York Athletic Club, New York City. To request additional information or to register, contact Taglich Brothers at 212-779-2971 or visit http://www.TaglichBrothers.com.
About Taglich Brothers:
Taglich Brothers, Inc. is a full-service broker dealer focused exclusively on microcap companies. The Company defines the microcap segment of the equity market as companies with less than $250 million in market capitalization. Taglich Brothers currently offers institutional and retail brokerage services, investment banking and comprehensive research coverage to the investment community.
About Aeolus Pharmaceuticals:
Aeolus Pharmaceuticals is developing a platform of a new class of broad-spectrum, catalytic-antioxidant compounds that protect healthy tissue from the damaging effects of radiation. Its first compound, AEOL 10150, is being developed for oncology indications, where it is used in combination with radiation therapy. It is also being developed, with funding by the US Department of Health and Human Services, as a medical countermeasure against chemical and radiological weapons, where its initial target indications are as a protective agent against the effects of acute radiation syndrome and delayed effects of acute radiation exposure. Aeolus' strategy is to leverage the substantial investment in toxicology, manufacturing, and preclinical and clinical studies made by US Government agencies in AEOL 10150, including the contract with BARDA valued, with options, at up to $118.4 million, to efficiently develop the compound for use in oncology. For more information, please visit Aeolus's corporate website at http://www.aeoluspharma.com.
Contact:
Taglich Brothers
Karen Payne, Symposia Events
212-779-2971