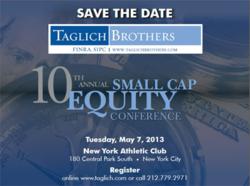 diaDexus, Inc. To Present At Taglich Brothers 10th Annual Small Cap Equity Conference
New York, NY (PRWEB) April 18, 2013
Taglich Brothers, Inc. is pleased to announce that Brian Ward, CEO and Jean Viret, CFO of diaDexus, Inc. (OTCQB:DDXS) will be presenting at their 10th Annual Small Cap Equity Conference May 7, 2013. The Conference will take place at the New York Athletic Club, New York City. To request additional information or to register, contact Taglich Brothers at 212-779-2971 or visit http://www.TaglichBrothers.com.
About Taglich Brothers:
Taglich Brothers, Inc. is a full-service broker dealer focused exclusively on microcap companies. The Company defines the microcap segment of the equity market as companies with less than $250 million in market capitalization. Taglich Brothers currently offers institutional and retail brokerage services, investment banking and comprehensive research coverage to the investment community.
About diaDexus, Inc.:
diaDexus, Inc., based in South San Francisco, California, develops and commercializes proprietary cardiovascular diagnostic products addressing unmet needs in cardiovascular disease. The company's PLAC® Test ELISA Kit is the only blood test cleared by the FDA to aid in predicting risk for both coronary heart disease and ischemic stroke associated with atherosclerosis, the #1 and #3 causes of death, respectively, in the United States. The company's PLAC® Test for Lp-PLA2 Activity, a CE-marked test, is an indicator of atherosclerotic cardiovascular disease, the #1 cause of death in Europe. diaDexus is ISO 13485 certified and is manufacturing the PLAC Test for Lp-PLA2 Activity on-site. For more information, please visit the company's website at http://www.diaDexus.com.
Contact:
Taglich Brothers
Karen Payne, Symposia Events
212-779-2971