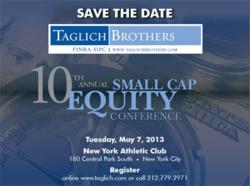 Fluoropharma Medical To Present At Taglich Brothers 10th Annual Small Cap Equity Conference
New York, NY (PRWEB) April 18, 2013
Taglich Brothers, Inc. is pleased to announce that Thijs Spoor, President & CEO of FluoroPharma Medical, Inc. (OTCB: FPMI) will be presenting at their 10th Annual Small Cap Equity Conference May 7, 2013. The Conference will take place at the New York Athletic Club, New York City. To request additional information or to register, contact Taglich Brothers at 212-779-2971 or visit http://www.TaglichBrothers.com.
About Taglich Brothers:
Taglich Brothers, Inc. is a full-service broker dealer focused exclusively on microcap companies. The Company defines the microcap segment of the equity market as companies with less than $250 million in market capitalization. Taglich Brothers currently offers institutional and retail brokerage services, investment banking and comprehensive research coverage to the investment community.
About FluoroPharma Medical, Inc.:
FluoroPharma is a biopharmaceutical company engaged in the discovery and development of proprietary PET imaging products to evaluate cardiac disease at the cellular and molecular levels. The Company has licensed technology from the Massachusetts General Hospital in Boston.
The Company's goal is to enable personalized medicine through precision diagnostics that will help the medical community diagnose disease more accurately at the earliest stages, leading to more effective treatment, management and better patient outcomes.
FluoroPharma's initial focus is the development of breakthrough positron emission tomography (PET) imaging agents and is advancing two products in clinical trials for assessment of acute and chronic forms of coronary disease. These first in class agents have been designed to rapidly target myocardial cells. Other products in development include agents for detection of inflamed atherosclerotic plaque in peripheral arteries, agents with the potential to image Alzheimer's disease and agents that could potentially be used for imaging specific cancers.
In addition to the United States, Europe and China, patents related to FluoroPharma's portfolio of imaging compounds have been issued in Japan, Canada, Australia, Finland, Portugal, Ireland and Mexico. For more information on the Company, please visit: http://www.fluoropharma.com
Contact:
Taglich Brothers
Karen Payne, Symposia Events
212-779-2971