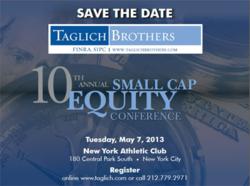 Globalwise Investments To Present At Taglich Brothers 10th Annual Small Cap Equity Conference
New York, NY (PRWEB) April 18, 2013
Taglich Brothers, Inc. is pleased to announce that William Santiago, President & CEO of GlobalWise Investments, Inc. (OTCBB: GWIV) will be presenting at their 10th Annual Small Cap Equity Conference May 7, 2013. The Conference will take place at the New York Athletic Club, New York City. To request additional information or to register, contact Taglich Brothers at 212-779-2971 or visit http://www.TaglichBrothers.com.
About Taglich Brothers:
Taglich Brothers, Inc. is a full-service broker dealer focused exclusively on microcap companies. The Company defines the microcap segment of the equity market as companies with less than $250 million in market capitalization. Taglich Brothers currently offers institutional and retail brokerage services, investment banking and comprehensive research coverage to the investment community.
About GlobalWise Investments, Inc.:
GlobalWise Investments, Inc., via its wholly owned subsidiary Intellinetics, Inc., is a Columbus, Ohio, based Enterprise Content Management (ECM) pioneer with industry-leading software that delivers cloud ECM based solutions on-demand. The Company's flagship platform, Intellivue™, represents a new industry benchmark and game-changing solution by enabling clients to access and manage the content of every scanned document, file, spreadsheet, email, photo, audio file or video tape — virtually anything that can be digitized — in their enterprise from any PC, laptop, tablet or smartphone from anywhere in the world. For additional information, please visit the Company's corporate website: http://www.GlobalWiseInvestments.com
Contact:
Taglich Brothers
Karen Payne, Symposia Events
212-779-2971