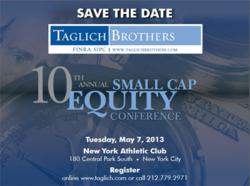 Derma Sciences To Present At Taglich Brothers 10th Annual Small Cap Equity Conference
New York, NY (PRWEB) April 22, 2013
Derma Sciences, Inc. is pleased to announce that Ed Quilty, President & CEO of Derma Sciences, Inc. (NASDAQ: DSCI) will be presenting at the Taglich Brothers 10th Annual Small Cap Equity Conference May 7, 2013. The Conference will take place at the New York Athletic Club, New York City. To request additional information or to register, contact Taglich Brothers at 212-779-2971 or visit http://www.TaglichBrothers.com.
About Taglich Brothers:
Taglich Brothers, Inc. is a full-service broker dealer focused exclusively on microcap companies. The Company defines the microcap segment of the equity market as companies with less than $250 million in market capitalization. Taglich Brothers currently offers institutional and retail brokerage services, investment banking and comprehensive research coverage to the investment community.
About Derma Sciences:
Derma Sciences is a medical technology company focused on three segments of the wound care marketplace: pharmaceutical wound care products, advanced wound care dressings to address chronic wounds, including diabetic ulcers and traditional dressings. The Company has begun Phase 3 clinical trials in diabetic foot ulcer healing with DSC127, based on excellent Phase 2 data. Its MEDIHONEY® product is the leading brand of honey-based dressings for the management of wounds and burns. The product has been shown to be effective in a variety of indications, and was the focus of a positive large-scale, randomized controlled trial involving 108 subjects with leg ulcers. TCC-EZ® is its gold-standard total contact casting system for diabetic foot ulcers. Other novel products introduced into the $14 billion global wound care market include XTRASORB® for better management of wound exudate, and BIOGUARD® for infection prevention. For more information please visit http://www.dermasciences.com.
Contact:
Taglich Brothers
Karen Payne, Symposia Events
212-779-2971