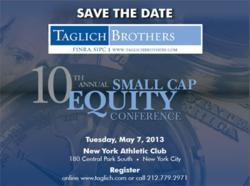 10th Annual Taglich Brothers Small Cap Equity Conference
New York, NY (PRWEB) April 24, 2013
The 10th Annual Taglich Brothers Small Cap Equity Conference will be held in Manhattan at the New York Athletic Club on Tuesday, May 7th, 2013.
This conference is a unique opportunity for investors to meet the management teams from the following small and microcap companies: Aeolus Pharmaceuticals - OTCQB: AOLS, Air Industries Group, Inc. - OTCBB: AIRI, Bridgeline Digital, Inc. - NASDAQ: BLIN, DecisionPoint Systems, Inc. - OTCQB: DPSI, Derma Sciences, Inc. - NASDAQ: DSCI, diaDexus, Inc. - OTCQB: DDXS, FluoroPharma Medical, Inc. - OTCQB: FPMI, GlobalWise Investments, Inc. - OTCBB: GWIV, Issuer Direct Corporation - OTCBB: ISDR, LightPath Technologies, Inc. - NASDAQ: LPTH, Orchids Paper Products Company - NYSE MKT: TIS, PLC Medical Systems, Inc. - OTCBB: PLCSF, Profire Energy, Inc. - OTCBB: PFIE. The conference will include detailed investor-oriented presentations by senior management of each company throughout the day.
All company presentations during the conference will be available online via webcast both live and in an archived version at the Taglich Brothers web site, http://www.TaglichBrothers.com. The schedule of presentations is also available at that site.
Taglich Brothers, Inc. is a full-service broker dealer focused exclusively on microcap companies. The Company defines the microcap segment of the equity market as companies with less than $250 million in market capitalization. Taglich Brothers currently offers institutional and retail brokerage services, investment banking and comprehensive research coverage to the investment community.
Contact Information:
Karen Payne, Symposia Events
212-779-2971