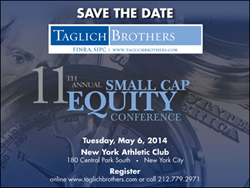 A unique opportunity for investors to meet management teams from small and microcap companies...
NEW YORK, NY (PRWEB) April 17, 2014
Inuvo®, Inc. is pleased to announce that Richard Howe, Chairman & CEO of Inuvo®, Inc. (NYSE MKT: INUV) will be presenting at Taglich Brothers 11th Annual Small Cap Equity Conference May 6, 2014. The Conference will take place at the New York Athletic Club, New York City. To request additional information or to register, contact Taglich Brothers at 212-779-2971 or visit http://www.TaglichBrothers.com.
About Taglich Brothers
Taglich Brothers, Inc. is a full-service broker dealer focused exclusively on microcap companies. The Company defines the microcap segment of the equity market as companies with less than $250 million in market capitalization. Taglich Brothers currently offers institutional and retail brokerage services, investment banking and comprehensive research coverage to the investment community.
About Inuvo
Inuvo®, Inc. (NYSE MKT: INUV) is an Internet marketing and technology company that delivers targeted advertisements into websites and applications reaching desktop and mobile devices. To learn more about Inuvo, please visit http://www.inuvo.com.
Contact:
Taglich Brothers
Karen Payne, Symposia Events
212-779-2971