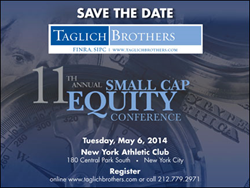 A unique opportunity for investors to meet management teams from small and microcap companies...
NEW YORK, NY (PRWEB) April 22, 2014
NAPCO Security Technologies, Inc. is pleased to announce that Richard Soloway, Chairman & President, and Kevin Buchel, CFO of NAPCO Security Technologies, Inc. (NASDAQ: NSSC) will be presenting at Taglich Brothers 11th Annual Small Cap Equity Conference May 6, 2014. The Conference will take place at the New York Athletic Club, New York City. To request additional information or to register, contact Taglich Brothers at 212-779-2971 or visit http://www.TaglichBrothers.com.
About Taglich Brothers
Taglich Brothers, Inc. is a full-service broker dealer focused exclusively on microcap companies. The Company defines the microcap segment of the equity market as companies with less than $250 million in market capitalization. Taglich Brothers currently offers institutional and retail brokerage services, investment banking and comprehensive research coverage to the investment community.
About NAPCO Security Technologies, Inc.
NAPCO Security Technologies, Inc. is one of the world's leading manufacturers and solutions providers of high-technology electronic security, connected home, video, fire alarm, access control and door locking systems. The Company consists of four Divisions: NAPCO, its security and connected home segment, plus three wholly-owned subsidiaries: Alarm Lock, Continental Instruments, and Marks USA. Headquartered in Amityville, New York, its products are installed by tens of thousands of security professionals worldwide in commercial, industrial, institutional, residential and government applications. Since 1969, NAPCO products have earned a reputation for innovation, technical excellence and reliability, positioning the Company for growth in the multi-billion dollar and rapidly expanding electronic security market. For additional information on NAPCO, please visit the Company's web site at http://www.napcosecurity.com.
Contact:
Taglich Brothers
Karen Payne, Symposia Events
212-779-2971