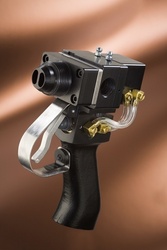 ROBBINSVILLE, N.J. (PRWEB) September 23, 2008
The new 400HF High Flow Valve and the 450RC Recirculating Valve bring significant new capabilities to the company's comprehensive line of meter/mix products. Like all TAH valves, they are designed to help manufacturers in a wide variety of industries reduce production costs by providing long, reliable operation with minimal maintenance.
400HF High Flow Valve
Provides a flow rate 15-30% greater than its standard counterpart, for faster throughput without compromising accuracy or consistency Large ¾" material inlet permits flow rates of 4-5 gallons per minute 450RC Recirculating Valve
Keeps heated and particle-filled materials mixed and ready for dispensing Eliminates pressure buildup that could affect the mix ratio Snuffback feature eliminates dripping between applications TAH Industries is a wholly owned subsidiary of Nordson Corporation. The company is a leading manufacturer of motionless mixer dispensing systems for two-component adhesives and sealants. TAH Industries specializes in the design and production of disposable plastic mixers and cartridge dispensing systems, meter mix dispense valves and accessories. Their products are used in the dental, construction, automotive, life science, food, DIY, marine and aerospace industries.
Nordson Corporation is one of the world's leading producers of precision dispensing equipment that applies adhesives, sealants and coatings to a broad range of consumer and industrial products during manufacturing operations. The company also manufactures equipment used in the testing and inspection of electronic components as well as technology-based systems for curing and surface treatment processes. Headquartered in Westlake, Ohio, Nordson has more than 4,100 employees worldwide, and direct operations and sales support offices in 34 countries.