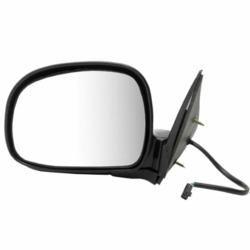 The online search tool added this year has helped simplify the ways that parts are researched and quoted in price.
Billings, Montana (PRWEB) May 28, 2013
The introduction of the Chevy Tahoe in the early 1990s helped boost the consumer demand in General Motors SUVs. Locating replacement parts for the Tahoe series is now expected to be simpler for buyers using the AutoProsUSA.com company. This company has now added used Tahoe side mirror inventory for direct sale to consumers. These preowned addition mirrors are taken from operational vehicles. These units are ready for installation upon delivery and can be purchased for a lower than MSRP price. Consumers can now visit http://autoprosusa.com/used-chevy-tahoe-side-mirrors-for-sale to place orders.
The replacement parts center now launched online was designed to benefit consumers. Finding replacement auto parts from local dealers can be time consuming for some owners of vehicles. Mechanics who perform vehicle repairs can often use contacts that are in different parts of the country for parts distribution.
The Auto Pros company has created its online parts website to provide consumers with the ability to purchase parts for well under retail list pricing. The mirror inventory that is now available is in combination with other GM vehicle parts that are now for sale to Internet buyers of auto parts.
Several increases in parts inventory have been made this year to provide buyers with an expanded inventory of available parts. Companies like Ford, GM, Dodge, Toyota and Honda are now represented in the online portion of the company website. The preowned condition parts are secured through reliable distribution sources and can now be searched online.
The online search tool added this year has helped simplify the ways that parts are researched and quoted in price. The company quote tool now serves as one of the easiest ways to receive updated pricing online, by text message or through email distribution.
Because the Auto Pros resource was created for consumer sales, a new series of informative videos has been launched online. The company website now features individual parts videos designed to help inform buyers. These videos contain an ordering process overview as well as a brief introduction to each part. One of the latest videos can be viewed at http://www.youtube.com/watch?v=vpGMGY1WcBw online. This streaming video series is expected to continue through the remainder of this year as other preowned parts are included for consumer sale online.
The company contact information has recently been changed to make it simpler for parts buyers, salvage yards or junkyards to make inquiries for prices or distribution. The new company contact information now includes the following:
Auto Pros USA
1270 Crabb River Rd.
‪Richmond, TX 77469
(888) 230-1731
(713) 560-7017
About AutoProsUSA.com
The AutoProsUSA.com company launched its preowned parts superstore online in order to supply buyers with lower than MSRP pricing and quality inventory. This company has entered into agreements with suppliers in North America to supply the fulfillment and parts warranties that can be hard to locate through some secondary sellers. The AutoProsUSA.com company designed its website to distribute online quotes to all buyers. This faster quote method enables parts buyers to receive immediate pricing anytime of the day or night. This company is staffed by trained employees in the automotive industry providing the assistance that preowned parts buyers demand from a retailer online.