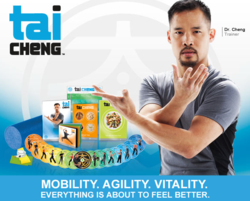 And when Tai Cheng is purchased though the Team Beachbody opportunity website, 5 bonus tools and 6 bonus gifts are included at no additional cost.
Denver, Colorado (PRWEB) June 27, 2013
This special blend of techniques allows you to heal in just 90 days. Developed by Dr. Mark Cheng and the Team Beachbody development team, this is a low-impact program that combines the 18 moves found in Tai Chi with 21st-century sports science. It allows people to have all the benefits of going to the gym, without the use of heavy weights, and all in the comfort of their own home. This new and innovative fitness program is being propagated all across the nation, with huge results from its participants. People are reporting large amounts of weight loss, increased metabolism, and larger and more defined muscles.
Included in the Tai Cheng Challenge Pack are 12 workout DVDs, a Master Scroll reference DVD, the Tai Cheng Body Alignment for Better Living DVD , and a 30 day supply of Shakeology®, 5 valuable tools, and 6 free bonuses including a 30-day VIP trial membership to the Team Beachbody Club where there are additional tips and tools for meeting individualized fitness goals.
Tai Cheng is based on the ancient Chinese Discipline of Tai, and is practiced by millions of people. It is intense mental and physical conditioning. The Tai Cheng program has been praised for its emphasis on natural energy, flexibility, muscle growth and development, and core fitness improvements. Tai Cheng, for many people, is a life-changing workout. The high paced workout routines and physical and mental discipline spill over into their everyday lives, in the best way possible. Participants have reported better performance at work, in their personal lives, and generally a better sense of personal well-being.
About the Beachbody Business & Team Unity
Team Beachbody® is the network marketing division of Beachbody, which is known for their top selling health and fitness products such as P90X®, Insanity®, TurboFire®, Shakeology®, etc. The Beachbody MLM is unique, in that the parent company runs television infomercials and massive marketing campaigns in order to enroll new members, customers, and Beachbody Coaches for their representatives to earn from.
Team Unity is a group of Independent Beachbody Coaches and Team Leaders who have developed a step-by-step training system and interactive support group in order to ensure their team members are very successful in the Beachbody business opportunity.
Contact:
Holly Blochowitz, Team Unity Leader & Co-Founder
Independent Star Diamond Beachbody Coach
holly(at)beachbodycoach(dot)com
Beachbody does not guarantee any level of success or income from the Team Beachbody Coach Opportunity. Each Coach's income depends on his or her own efforts, diligence, and skill. See our Statement of Independent Coach Earnings for the most recent information on our Coaches' actual incomes.