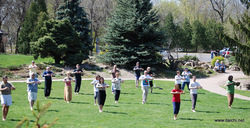 If you want to be healthy and live to 100, do Qigong.
Minneapolis, MN (PRWEB) April 11, 2011
As a part of its celebration of the 13th annual World Tai Chi Qigong Day, Tilopa Tai Chi Qigong Center will educate the community about the health and healing benefits of these traditional Chinese exercises on Saturday, April 30 from 10:30am-12:30pm. The Center is located at Lynnhurst Congregational Church 4501 Colfax Ave So Minneapolis, MN 55409. This event is free and open to the public.
World T'ai Chi & Qigong Day is a global health and healing event held throughout the world. It begins in New Zealand and spreads from time zone to time zone across the earth, throughout more than 60 countries and across 6 continents. Organizers hope this healing wave will foster and promote calm and wellness worldwide. Tai Chi and Qigong are sometimes referred to as Chinese Yoga, dating back thousands of years in ancient China and are growing in popularity worldwide.
"Tai chi is often described as meditation in motion, but it might well be called "medication in motion." according to the Harvard Women's Health Watch. Researchers at Harvard found growing evidence that this mind-body practice, which originated in China as a martial art, has value in treating or preventing many health problems such as high blood pressure and heart disease. Combined with standard treatment, tai chi appears to be helpful for several medical conditions. For example: arthritis, low bone density, breast cancer, heart disease, hypertension, Parkinson's disease, sleep problems, and stroke.
Dr. Oz, Oprah's favorite MD, was asked out of all the health practices that one could do, what was the one practice that he would choose and recommend people practice to stay healthy. His response: "If you want to be healthy and live to 100, do Qigong." He added that Qigong reverses the aging process.
Founded in 1977, Tilopa Tai Chi Qigong Center Minneapolis, MN has taught Tai Chi and Qigong to over 10,500 students. The school provides an in-depth authentic study of the ancient healing arts of Tai Chi and Qigong in a relaxed, friendly atmosphere, where students learn from certified and qualified Instructors. Our Minneapolis Tai Chi Classes combine these arts while utilizing chi flow with stretching, flowing movements, deep breathing exercises, moving meditation, and cultivate energy in a simple and easy to learn format. Marilyn Allysum, founder and Director of Tilopa Tai Chi Qigong Centers in Minneapolis, MN and Maui, HI; is a highly regarded speaker, and educator with more than 35 years of teaching experience in Tai Chi and Qigong.
Contact: Marilyn Allysum
Tilopa Tai Chi Qigong Center
Minneapolis, MN 55408
612 825-6824
Email info(at)itaichi(dot)com
http://www.itaichi.com
###