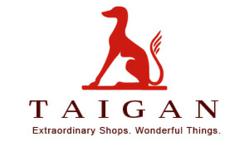 "By looking at what shoppers loved throughout 2012, we have great indicators of what will be popular as we move into 2013," said Taigan CEO Elizabeth Nichols. " After all, we developed Taigan to help all shoppers find beautiful things all year around."
Brentwood, TN (PRWEB) January 04, 2013
Online shopping site, Taigan.com, today released the most popular items purchased in 2012 by customers. All items can be described as unique or hard-to-find specialty items crafted by small purveyors, another clear sign of the trend towards specialty items for gift giving and personal shopping in 2013. Taigan features specialty fashion apparel, accessories, home décor, gourmet food products, sporting goods, gifts and more - all made by independent craftsmen and purveyors discovered across the globe.
"We developed Taigan to help online shoppers find beautiful things throughout the year. We pride ourselves on hand-selecting the most special and elusive designers, artisans and shops from around the world," explains Taigan CEO Elizabeth Nichols. "Our shoppers always enjoy seeing what was most popular in the previous year, and we love sharing these discoveries with them. Some are long-standing classics, others are new trends and there are even a few surprises on the list this year."
Shoppers always like inspiration when moving into a new year and the following list is the perfect starting point for new personal items as well as gifting needs.
Taigan's Most Popular Items of 2012(click to view all)
-Nye's Cream Sandwiches ice cream sandwiches, $40
-Peter Nappi men's leather boots, $556
-Bounkit fashion jewelry, prices vary
-Karen Adams Designs 2013 calendar, $59
-Imperio JP leather purses, $550
-Oyster Bamboo Fly Rods Barbour flask, $59
-Callie's Country Ham Biscuits, $49.50
-And so many more!
As 2013 comes into full swing, shoppers continue to visit Taigan for unique, elusive shopping ideas. As the site adds new vendors weekly, shoppers discover new arrivals often. Clients also can visit Taigan's blog, Fetch Magazine, for impeccable style advice as well as all social media sites: Pinterest, Facebook, Twitter (@TaiganFinds) and Instagram (@Taiganceo).
ABOUT TAIGAN
Founded in 2009, Taigan is the world's premier curated online marketplace featuring a highly selective collection of fashion, accessories, home décor, gourmet food, sporting life and more. Accepting less than 3% of the 5000+ merchants who have inquired to be presented on the online shopping site, Taigan handpicks items from boutiques, designers and artisans from across the country and presents them to their discerning global shopping audience. Taigan connects the creators, the passionate collectors, and the knowledge brokers who celebrate all things well crafted, well presented and well done. It is the online destination for exquisite, hard to find items, presented by the talented purveyors that are hand-selected by Taigan.