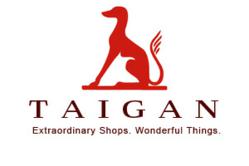 "By adding this gift guide feature," said Taigan CEO, Elizabeth Nichols, "we make it easier for our shoppers to find unique presents they never knew they wanted, and we deliver a more tailored shopping experience."
Brentwood, TN (PRWEB) August 29, 2012
Taigan.com today announced the launch of a new gift guide feature in preparation for the holiday shopping season. Following triple year over year growth, the highly edited online fashion, home, food and gift site is delivering the solution to the gift-stumped shopper for holidays and every occasion.
"Our shoppers visit Taigan specifically to find exquisite goods and products which cannot be found anywhere else," said Taigan CEO, Elizabeth Nichols. "By adding this gift guide feature, we make it easier for our shoppers to find unique presents they never knew they wanted, and we deliver a more tailored shopping experience."
Taigan is noted for its highly edited collection of designers and artisans of exquisite, hard-to-find products in women's, men's and children's fashion, accessories, home décor, gourmet food products, sporting life and more and all of these categories are represented throughout the gift guide feature.
Shoppers can also search for gifts by recipient, price range, product category, occasion and many more.
Gift guides may be found under the "Shop By" tab on Taigan's main navigation.
ABOUT TAIGAN
Founded in 2009, Taigan is the world's premier online marketplace featuring unique, curated items in fashion, accessories, home décor, gourmet food, sporting life and more. Accepting less than 3% of the 5000+ merchants who have inquired to be presented, Taigan handpicks items from boutiques, designers and artisans from across the country for their discerning shoppers, connecting the creators, the passionate collectors, and the knowledge brokers who celebrate all things well crafted, well presented and well done. It is the online destination for exquisite, hard to find items, presented by the talented purveyors that are hand-selected by Taigan.