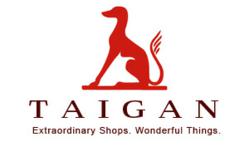 "Today there's a new class of entrepreneurs in the world of design, fashion and beyond," said Taigan CEO Elizabeth Nichols. "Signing these new business people will add a level of uniqueness to our site as we continue to grow and build in the future."
Brentwood, TN (PRWEB) October 09, 2012
Highly curated e-commerce site, Taigan.com, has identified a significant shift in the profile of the emerging designers of the millennial generation. Taigan prides itself on discovering the elusive of the design and fashion world, and the most unique and exquisite items of today are coming from artisans who have not yet been artistically molded by the more developed designers as they traditionally were in previous generations. The shift is a significant indicator of what direction the designer site is headed towards, and having these young, budding designers is a crucial piece of what the internet site will offer moving forward. Because of the nature of Taigan's business, it is crucial that the online retailer pay attention to this market change.
"Today there's a new class of entrepreneurs in the world of design, fashion and beyond," said Taigan CEO, Elizabeth Nichols. "College graduates are immediately starting their businesses upon graduation. These risk-loving, young artisans boldly set into business for themselves with barely a moment of 'real world' business experience, which likely explains the tremendously creative new designs we're seeing at tradeshows, runway shows and in pop-up boutiques across the country. Signing these new business people will add a level of uniqueness to our site as we continue to grow and build in the future."
Nichols attributes this phenomenon to an unemployment rate of 12.7 percent in August as it continues to increase combined with their determination to avoid searching for a job under someone to ultimately want to sell personal creations down the road. These new designers are simply unaffected by the challenges posed by the world of business, ready to take risks and excited about building their own business under their own control. While the Taigan team vets new talents for the most popular curated e-commerce site, moving towards hiring these designers with little 'real world experience' has become a transformation the site is trusting, setting it apart from others who solely carry big name designers.
"If you don't go and build your own dreams, someone else will hire you to build theirs," said Peter, founder of Pollen Arts beeswax candles on Taigan. "Looking at time as something to beat or wait through is a big turn off when working for somebody else. The road of independent business can be bumpy and uncertain, but there's potential -- every 'ding' of the email bell excites us as a new opportunity. I've never had that excitement or optimism working for somebody else, where the script is always set."
The talented young husband and wife team Peter and Juwels (they do not believe in using last names), are the founders of Pollen Arts – artfully crafted beeswax candles molded from vintage glass jars and bottles. The free-spirited couple had been competitive skateboarders and fledgling authors, when they came upon the idea to begin Pollen Arts while taking a walk on a beach. In a short while, Pollen Arts has enjoyed considerable success at tradeshows and online. Peter and Juwels make their pieces in the kitchen of a 1975 Winnebago where they now live and travel the country at will.
Harding-Lane Hats on Taigan was founded by brother and sister Steve and Sarah Gifford, creating unique and fun needlepoint ball caps. They started their business directly out of college, basing it off of Sarah's childhood hobby of needlepoint. This Massachusetts-based business is now thriving, focused as much on its ability to grow as its donations from sales proceeds to support New England coastal preservation.
Gabrielle Bratton is a jewelry designer on Taigan from Charleston, SC, who started her career as a jewelry design major at the University of Georgia. Upon graduation, she entered her metal-cast lace jewelry in the 'Made in the South' contest with Garden & Gun Magazine, promptly winning her category. The line enjoyed considerable acclaim as a result, and continues to grow. Gabe's pride is in her ability to guide her brand and the growth of her business on her terms, designing her pieces in the comfort of her Charleston home.
As more of these passionate creative talents begin businesses, there is an apparent shift to the young small business person creating a new dynamic in the design and fashion landscapes. Taigan prides itself on having hard-to-find merchandise and in order stay in this realm, finding these excited, new talents is a game changer for the internet business. Not only does this potentially indicate a shift in the success of small business entrepreneurs, but more importantly for Taigan, this is an ideal time to be out finding these wonderful talents and showcasing them to the world.
ABOUT TAIGAN
Founded in 2009, Taigan is the world's premier curated online marketplace featuring a highly selective collection of fashion, accessories, home décor, gourmet food, sporting life and more. Accepting less than 3% of the 5000+ merchants who have inquired to be presented on the online shopping site, Taigan handpicks items from boutiques, designers and artisans from across the country and presents them to their discerning global shopping audience. Taigan connects the creators, the passionate collectors, and the knowledge brokers who celebrate all things well crafted, well presented and well done. It is the online destination for exquisite, hard to find items, presented by the talented purveyors that are hand-selected by Taigan.