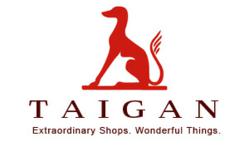 "Our team tirelessly searches for the best new products and designers, then we share those discoveries with our shoppers," said Taigan CEO Elizabeth Nichols. "As we add new shops, we grow our depth and reputation for the most highly edited shopping site."
Brentwood, TN (PRWEB) June 14, 2013
Specialty online shopping site, Taigan.com, introduced nine new shops to their collection of exquisite designers, artisans and retailers in April and May. Each month, the elusive e-commerce site introduces a handful of newly discovered small business artisans, designers and/or retailers from across the globe ranging in categories such as fashion, accessories, home décor, gourmet food, sporting life and more. Taigan has enjoyed considerable shopper acclaim for its growing collection of hard-to-find, unique designers. Reasonably each new launch features a special story behind the brand in addition to exclusive access that comes with shopping on the site.
"We source exquisite product in a variety of categories, all presented by new and emerging designers and artisans. As we add new shops, we continue to grow Taigan's depth and reputation for the most highly edited collection of goods online," explains Taigan CEO Elizabeth Nichols. "Our team tirelessly searches for the best new products and designers, then we share those discoveries with our shoppers."
Nine shops added to Taigan in April and May:
-Savage Interior Design home décor and accents from Nashville, TN
-Letarte swim and resort wear from Maui, HI
-Olivia and Owen children's apparel from New York City, NY
-Diane James Home designer silk flowers from Norwalk, CT
-La Matera men's Argentine woven belts and wallets from Brooklyn, NY
-Susanna Galanis fashion jewelry from New York City, NY
-Oomph home décor designs from New Canaan, CT
-Debra Torres men's linen shirts from Bronx, NY
-Parasol UV resistant swimwear from New York, NY
Savage Interior Design from Nashville, TN, owned by Jonathan Savage, is a full service high-end residential design firm that has partnered with Taigan to sell their most coveted home finds. They offer items from around the globe, ranging from large-scale furniture to interesting accessories and everything in between. Their design work is currently featured in Traditional Home Magazine's July 2013 issue.
Latarte from Maui, HI exudes the lifestyle of Hawaiians blending a bohemian island essence with chic global aesthetics in her beachwear line. Designer Lisa Letarte Cabrinha, who lives in Maui, infuses her jet-setting island lifestyle and the spirit of Aloha into Letarte's signature trademarked prints, intricate adornments and lavish detail.
Olivia and Owen from New York City, NY is a children's apparel line focused on classic style essentials made with the most luxurious fabrics and sophisticated prints. This brand is defined by a collaboration of East coast meets West coast with style influenced from the sleek trends of New York City to Lisbon Portugal's old-world charm.
Diane James Home from Norwalk, CT is the leading destination for silk floral bouquets and plants, handmade to order. They believe that flowers make a room so why not buy flowers that last a lifetime? Their "fresh from the garden" style is achieved by using the highest quality, botanically correct stems. Top interiors designers such as Michael Smith, Celerie Kemble, Suzanne Tucker, and Phoebe Howard use Diane James Home flowers regularly.
La Matera from Brooklyn, NY create hand woven Argentine belts and wallets for men and women inspired straight from the rustic yet stylish and elegant gouchos themselves. After a trip to Argentina, the designers of this line left inspired to provide this look to the rest of the world.
Susanna Galanis from New York, NY hand crafts and designs her beautiful fashion jewelry line. She creates bronze, brass and copper pieces, often combining semiprecious stones and objects and medallions that are influenced by the Greco-Roman and medieval eras. Each piece of jewelry is made from either vintage or vintage-inspired materials, and all the stones are semi-precious.
Oomph from New Canaan, CT is a chic line of home décor. The Oomph designers believe that custom-made tables, chic chairs and beautiful pillows can add the 'oomph' it needs to any home. This line is completely made in the United States and is designed to add an extra touch to any household.
Debra Torres from Bronx, NY designs casual men's dress shirts inspired by the iconic guayabera. Blending American sophistication with Latin tradition, Debra transforms the classic shirt of her native Cuba into a sophisticated casual piece that no man should be without. She is known amongst the wedding circuit as a go-to shirt style for beach weddings specifically.
Parasol from New York, NY designs stylish swimwear which also gives UV protection. The designers of this line strongly believe no one should sacrifice style for functionality so this line gives consumers the ability to have fun in the sun while also being fully protected.
To stay up to date on all new Taigan launches, visit Taigan.com and sign up to receive email notifications. One may also monitor new launches on each of Taigan's social media outlets (Fetch Magazine, Facebook, Twitter, Pinterest, Google+ and LinkedIn). For more, visit Taigan.com.
ABOUT TAIGAN
Founded in 2009, Taigan is the world's premier curated online marketplace featuring a highly selective collection of fashion, accessories, home décor, gourmet food, sporting life and more. Accepting less than 3% of the 5000+ merchants who have inquired to be presented on the online shopping site, Taigan handpicks items from boutiques, designers and artisans from across the country and presents them to their discerning global shopping audience. Taigan connects the creators, the passionate collectors, and the knowledge brokers who celebrate all things well crafted, well presented and well done. It is the online destination for exquisite, hard to find items, presented by the talented purveyors that are hand-selected by Taigan.