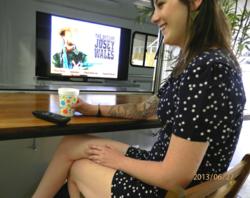 . The real reason Americans put up with sports is this: Behold, the tailgate party. The pinnacle of American achievement. Since the dawn of parking lots, man has sought to fill his gut with food and alcohol in anticipation of watching others exercise."
Cleveland GA (PRWEB) June 28, 2013
Whether attending a football game, a Nascar event, promoting a product in a "road show" or catering a "special event", Chow Trailers has developed the "King" of tailgaters, creatively designed to fit in an EZ tow 8'x12' trailer with the finest tailgate party equipment possible.
Included are the following features:
Double decks with full railings
3 ft. X 6 ft. drop-down solid hardwood bar
60" "Smart" Vizio E601i-A3 LED HDTV
Ceiling track for multiple TV positioning
Haier KRS2000 Triple Tap Kegerator
Weber Genesis S-330 "Tailgating"
4 collapsible wooden barstools
LED spotlights throughout
Yeti YT75W cooler on pull out tracks
Sony BDPS 790 Blu-Ray Playe
The World's 1st "Smart" Dumbwaiter
Sonos PBAR1US1BLK Playbar sound system
8' X 12' roof top tent with full on graphics
4 color coordinated director's chairs
Optional rail-skirts for deck
Their Sonos Playbar will flood the entire "county" with epic, full-theater Hi-Fi sound.
They have double decks at Ground level or with a 360° rooftop view.
A dumbwaiter guarantees that the parttcipants will always be within reach of their favorite food or beverage as well as a rooftop tap.
An "anti-glare" TV track with multiple positions can be used to place the sleek, 60" LED HDTV in the most optimal location.
The unit comes with a stained maple 3 ft. by 6 ft. pull-down bar, creating the ambiance of a classy sports bar.
Get more details at http://tailgate.chowtrailers.com
CHOW TRAILERS & TRUCKS, LLC
2139 HWY 129 S, CLEVELAND, GA 30528
706.219.0219