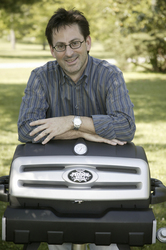 We needed to be able to show our customers how the Freedom Grill works because it's the only grill that rides on your hitch and swings away for cooking and access
Poway, CA (PRWEB) August 28, 2007
Freedom Grill's in-store demo loop for the FG-50 Ride Outside Grill took home a Bronze Telly for Best Commercial when the 28th Annual Telly Award winners were announced last month.
Founded in 1978, the Telly Awards is the premier award honoring outstanding local, regional and cable TV commercials and programs, as well as the finest video and film productions. The Telly Awards annually showcases the best work of the most respected advertising agencies, production companies, television stations, cable operators and corporate video departments in the world. The Telly Awards is a widely known and highly respected international competition and receives over 13,000 entries annually from all 50 states and many foreign countries. The award program only selects silver and bronze winners in each category. The Silver Telly represents the highest honor and the Bronze Telly is awarded for outstanding achievement.
4964 Productions produced the Freedom Grill demo, which features Stephen Linn, author of The Ultimate Tailgater's Guides. The video was created to display the unique features of the Freedom Grill FG-50 tailgating grill and specifically to show that "You Drive With It On." The FG-50 was specifically designed to look great on the back of any vehicle and has already won a National Barbecue Association (NBBQA) Award of Excellence for Best Product. The patented swing away arm and high quality portable grill make it the ideal accessory for trucks, SUVs and RVs. The arm attaches to any 2" hitch receiver, carries the grill for driving and swings away from the vehicle for cooking. It's big enough to cook 20 burgers or 40 brats so cooking outdoors has never been more convenient. The grill is loaded with features not usually found on portable grills including a fold down condiment tray with utensil hooks for barbecue tools.
"We needed to be able to show our customers how the Freedom Grill works because it's the only grill that rides on your hitch and swings away for cooking and access," states Steve Glor, FreedomGrill's VP of Marketing. "Stephen Linn did a great job getting our message across in under 3 minutes and we are excited to get this video out to our retailers. The Telly Award lends credence to the quality of this production and we're thrilled to be recognized." The award winning video can be viewed on YouTube and the Freedom Grill corporate home page.
About Freedom Grill
Freedom Grill, Inc., "The Official Grill of Tailgating," designs and markets innovative, award winning products and accessories for the tailgating, camping and outdoor activities markets. Headquartered in Poway, California, the company markets easily transportable, high-performance gas grills and accessories designed for the Extreme Tailgating crowd. The company also recently launched a line of gourmet "Fire Brand Grilling Sauces." Freedom Grill products are sold through specialty BBQ retailers, sporting goods stores, automotive retailers, and hardware stores. For more information visit http://www.freedomgrill.com.
###