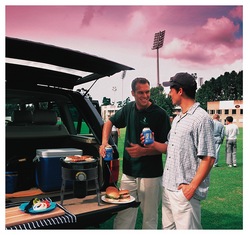 These grills are the ultimate tailgate cooking machines, they're incredibly portable without making any compromises in quality or ability
Deerfield Bch., FL (PRWEB) August 18, 2009
Fall is just around the corner and tailgate partiers everywhere are getting ready for another season of great tailgate food. Good eats are a prerequisite for tailgating, and the Safari Chef and Carri Chef make cooking before the big game easier and tastier than it has ever been before.
These versatile portable grills come in a convenient carry bag that makes them easy to pack away with the coolers, chairs and blankets required for a proper party. But once that perfect parking lot space has been staked out, they quickly and easily transform into a tailgate kitchen that can handle everything from hamburgers and hot dogs to stir fry or a big pot of secret recipe chili.
At the heart of these tailgate grills is a variable temperature burner fueled by disposable one-pound gas cylinders and a series of interchangeable cooking surfaces. Immediately above the burners is a rack that allows pots to be placed directly over the heat for simmering or boiling. If barbecuing is on the menu just add the vector grill rack and put on the hamburgers. There's a flat grill for frying or baking, and on the reverse side is a ribbed grill for fat-free cooking. If the chef wants to flex his culinary muscles both grills will also do Asian style stir-fry. All cooking surfaces are non-stick, easy to clean and dishwasher safe.
"These grills are the ultimate tailgate cooking machines, they're incredibly portable without making any compromises in quality or ability," says John K. Burke, President of Cadac North America. "They're so easy to pack up and carry anywhere and yet still capable of cooking almost any kind of dish you can imagine, for any meal of the day. There is nothing like them and we think once tailgate fans give them a try they will be hooked too."
About The Company
Cadac North America is the North American distributor of the high quality grills produced by its parent company in Johannesburg, South Africa. Cadac has 60 years of experience producing some of the world's finest outdoor leisure products. Cadac North America proudly offers a selection of high quality Cadac gas and charcoal grills that are designed for persons who want to escape in style whenever the opportunity arises. Built for unequalled durability, portability and convenience, Cadac products have become the reliable companion for outdoor lovers worldwide.
###