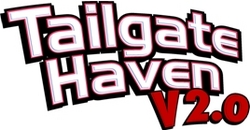 If you and your friends tailgate for football, NASCAR or any other event, then this site will do exactly what it is designed to do: simplify your life
Princeton, NJ (PRWEB) September 2, 2009
Now boasting over 10,000 registered users, TailgateHaven.com will mark this important milestone through the introduction of innovative web technology that brings an even more user-friendly and efficient architecture to the nation's premier online tailgate planner. In addition, TailgateHaven.com will launch the first-ever Tailgate Wiki for its users. The objective of the Wiki is to build a comprehensive database of the tailgate experience at all stadiums around the country. The 2009 tailgate season will officially begin online at Tailgate Haven when the enhanced website goes live on September 1st, 2009.
Introduced only one year ago, TailgateHaven.com is an exciting website that brings Internet technology and connectivity to enhance the tailgate experience. "If you and your friends tailgate for football, NASCAR or any other event, then this site will do exactly what it is designed to do: simplify your life," said Dr. Marc Rubenstein, one of Tailgate Haven's creators. "Bottom line, there will be far less e-mails, voice-mails, phone calls and confusion when it comes time to get to your favorite stadium and do what you do best: tailgate."
As avid Florida State football fan and tailgate organizer Leann Moore explains, "TailgateHaven.com streamlines all the processes associated with tailgate planning whether the games are played at home or away. It combines all the tailgate details (communication, menus, assignments, rally points, pictures, and schedules) in one website location that all our members can easily access any time, from anywhere! As the organizer for two tailgates in two different locations, using TailgateHaven.com has greatly reduced the time I spend planning and organizing, giving me more time to enjoy the tailgate festivities." Whether your event is at home or at the stadium, TailgateHaven.com is the place to plan your tailgates.
"Our goal with Tailgate Haven Version 2.0 was to use an innovative Web 2.0 design done and make the site even more user-friendly," said Dr. Rubenstein. "It allows our users to connect with each other, plan their tailgates online and get the best tailgate information for any stadium/city around the country. Our goal remains the same: to help our users plan, manage and promote their favorite teams and tailgate group."
TailgateHaven.com will continue its partnership with America's Oldest Brewery, D.G. Yuengling & Son, for the 2009 football season. To promote the launch of the enhanced TailgateHaven.com website, Yuengling is sponsoring a $500.00 cash prize to the winner of 'Best Tailgate Photo' contest. To register for the contest, members simply upload photos to TailgateHaven.com.
TailgateHaven.com will also be sponsored this season by Hickory Foods, Inc., and their famous product Bubba Burgers. Registered TailgateHaven.com members are eligible to win the "Sweet Tailgate Giveaway", which includes a 1-year supply of Bubba Burgers and a Freedom Grill!
For more information:
Contact:
Dr. Marc Rubenstein
Tailgate Haven, LLC
http://www.tailgatehaven.com
cell: 732-718-0551
"America's #1 Tailgate Planner"
"Tailgate Haven V2.0 Launching September 1st, 2009"
###