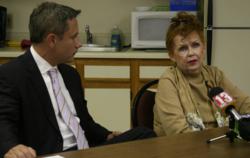 "Our extreme sympathies go out to the families who have been hurt by these horrible tragedies. We expect to be helped by our doctors, and we almost always are. When people who we trust injure us, it's our responsibility to help."
- Paul Harding
Albany, NY (PRWEB) October 30, 2012
After the deaths of 25 people in 18 states due to tainted steroid injections according to the Centers for Disease Control and Prevention*, several people have contacted the personal injury law firm of Martin, Harding & Mazzotti for help. This medication came from the New England Compounding Center.
In the Albany area, Justine Caldes called the firm to get help with understanding her rights and for help. Ms. Caldes received a letter from her doctor telling her that she may be at risk for infection after receiving the shot.
Ms. Caldes said, "I'm thinking it makes me very angry that I don't know what's being put in my body. You go to the doctor and you assume that you're safe and that you're going to get something that's going to help you."
Martin, Harding & Mazzotti is currently investigating to see how the firm can assist these people. Managing Partner of the firm, Paul B. Harding states, "Our extreme sympathies go out to the families who have been hurt by these horrible tragedies. We expect to be helped by our doctors, and we almost always are. When people who we trust injure us, it's our responsibility to help."
The compounding center that is responsible custom mixes medications. On September 25, 2012 they recalled three lots of the steroid, Methylprednisolone acetate. Additionally, the center distributed controlled substances including morphine and fentanyl without a license. Inspections of the compounding facility called into question the sterility of the produced medications.
The federal government has launched a criminal investigation. The center has been permanently closed and the licenses of the company's three principal pharmacists have been revoked.
People who contract Fungal Meningitis can experience a long list of serious symptoms including difficulty walking and seeing, headaches, fever and potentially, death. This disease is diagnosed using a spinal tap. Patients who have been sickest had not received early enough or appropriate treatment.
It is not yet known how long of an incubation period to tell patients who received tainted medications when they no longer are at risk.
Ms. Caldes continued, "You certainly don't think, I mean think of those people who got meningitis, how about the ones who are dead? Can you imagine?"
For additional information or to see if the firm can help, contact the offices of Martin, Harding & Mazzotti, LLP ® at 1800LAW1010 ® or visit http://www.1800LAW1010.com.

About Martin, Harding and Mazzotti, LLP ®
Martin, Harding & Mazzotti, LLP ® is a personal injury law firm whose practice is limited to protecting the rights of those wrongfully injured as a result of negligence. If you or someone you know has been injured, you can call them toll free at 1800LAW1010 ® (1.800.529.1010). Martin, Harding & Mazzotti, LLP ® has offices in Schenectady, New York City, Saratoga Springs, Utica, Plattsburgh, Manchester, Vermont, Burlington, Vermont and Springfield, Massachusetts.