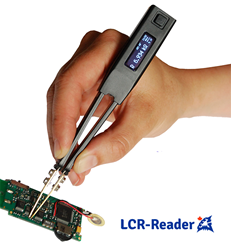 LCR-Reader and Smart Tweezers will be a good fit among other products at Taitronics
Waterloo, Ontario, Canada (PRWEB) August 19, 2015
Canadian Siborg Systems Inc. is visiting Taitronics for the first year and excited to show off the handheld digital multimeters LCR-Reader and Smart Tweezers. Taitronics is held in Taipei and Siborg believes that the LCR-Reader and Smart Tweezers LCR-meters will be a hit among the other electronics shown.
Taipei International Electronics Show or TAITRONICS is a an annual trade show held every October by Taiwan Electrical and Electronic Manufacturers' Association and Taiwan External Trade Development Council to promote electronic industry in Taiwan since 1974.
This year is the 41st year of the Taipei International Electronics Show; known for displaying leading electronics, including components, lighting and applications, industrial process and automation equipment, batteries, consumer electronics, broadband products and cloud technology, electrical energy and meters and instrumentation for the electronics fields.
"LCR-Reader and Smart Tweezers LCR-meters will be a good fit among the other products shown at Taitronics, the 41st Taipei International Electronics Show," says Michael Obrecht, the Director of Research and Development at Siborg, "We have a few distributors in China but only one in Taiwan, Ascentex. We are hoping to establish new contacts in Taiwan and possibly in Hong Kong and China during Taitronics."
Smart Tweezers LCR-meter released in the early 2000's has gained global recognition since then. The unique design that simplifies testing and troubleshooting surface mount technology; the device combines a set of sharp gold-plated tweezers with an LCR-meter. When LCR-Reader or Smart Tweezers LCR-meter is in contact with a component, it will automatically determine the type of component and measure accordingly for L, C, R and ESR. All measurements are promptly displayed on the built-in OLED screen, including secondary impedance values and the test frequency and mode used.
The LCR-Reader is the newest device in the line of LCR-meters; this model was designed for consumer market. It offers users the same convenience as Smart Tweezers but without the extra features and still offering decent 1% basic accuracy typically exceeding practical requirements.
Features found on the LCR-Reader:
-Automatic L, C, R and ESR measurements
-Basic accuracy of 1% - less than the ST-5S, but better than the ST-3 device
-Measurement mode selection
-0.5Vrms test signal
-Li-Ion battery with 80 hour continuous use
-One-button navigation
The Smart Tweezers ST-5S is a more advanced model; this device has a 0.2% basic accuracy, more features such as parasitic offset subtraction, component sorting with variable tolerances, and extensive menus to customize specific measurements. The ST-5S also comes with an NIST traceable certificate.
Siborg continuously works on new models and improvements to its devices. It teamed-up with the Institute of Automation and Electrometry of the Russian Academy of Sciences, Novosibirsk branch, to create a calibration jig for both Smart Tweezers and LCR-Reader models. Recently this jig was sent to Navair in Canada to get NIST traceable Certificate. Hopefully soon, the LCR-Reader will also have an NIST Traceable Calibration Certificate.
LCR-Reader and Smart Tweezers LCR-meters have become a easily recognizable device synonymous with simplified testing and troubleshooting of electronics. Siborg is excited to be bringing the Smart Tweezers family to Taitronics in Taipei; it will surely have a great fit among the other products offered.
Visit the Smart Tweezers Blog or the LCR-Readers Blog for all the latest news
About Ascentex:
Established in 1985, furnished electronic materials and manual apparatus in the early days, and currently supplies today's high-tech products, providing a series of fully automatic pick-and-place machines and detection systems, along with complete technical support and after-sale service. The list of customers, to name a few, includes Acer, Sharp, Philips, Canon, etc.
Contact:
ASCENTEX INDUSTRY CORP.
Taipei Head Office, 7F, NO 516, SEC. 1, NEI HU RD., TAIPEI 114, TAIWAN, R.O.C.
Tel:+886-2-8797-8788 Fax:+886-2-8797-8789
E-mail: asx(at)ascentex(dot)com(dot)tw  
About Siborg Systems Inc.
Established in 1994, Siborg Systems Inc. is a source of engineering software and hardware tools for semiconductor and electronics industry. Located in the city of Waterloo, Ontario, Canada, it enjoys being a part of the local world-renowned high-tech community.
For more information:
Siborg Systems Inc.
24 Combermere Cres.
Waterloo, Ontario
Canada
N2L 5B1
Tel: 519-888-9906
Fax: 519-725-9522
Web: http://www.siborg.com/smarttweezers