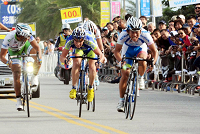 Taipei, Taiwan (PRWEB) November 19, 2011
The "2011 Taiwan Cycling Festival" will begin on Nov. 6 with a series of exciting activities, from races by the world's elite cyclists, to musical performances and hot springs cuisine. Working in conjunction with the Yilan, Hualien and Taitung county governments, the Taiwan Tourism Bureau is organizing this event to promote Taiwan as a great travel destination for cycling enthusiasts. It's being promoted as one of the top tourism events of the year, along with the Taiwan Lantern Festival and the Taiwan Culinary Exhibition.
To turn improvements in Taiwan's transportation system into a tourism resource, and to market eastern Taiwan as a new recreational spot that has good connections between bike routes and train stations, the Ministry of Transportation and Communications has designated the "2011 Taiwan Cycling Festival" to be held from Nov. 5-13. The opening ceremony will be held in Hualien on Nov. 6. The festival will be kicked off with the "Taiwan Cup,"which will gather elite cyclists around the globe to compete in a 200-kilometer invitational road race. Cyclists who will participate in the event include members of the world ranked No. 4 Rabobank cycling team, as well as Sergio Henao, one of the most accomplished members of the Columbian team; he will join Team Sky to compete in the Tour de France next year. Meanwhile, Rafael Montiel, also the Columbia team, is considered a king of the mountains in the American Professional Challenge Txurruka, who generously donated his beloved bike last year; he won the 2007 Tour de France's Combativity Award, and is a participant of the world's three big cycling races, with a strong ability to climb mountains and lots of experience competing. He is expected to be a focus of the Taiwan Cup.
The 2011 Taiwan Cycling Festival also combines the local areas' diverse tourism and cultural resources and packages them into unique tourism products. These allow travelers in Taiwan and from overseas to come to eastern Taiwan to watch the races, ride bikes and experience Taiwan's beautiful scenery and great food. It is hoped that this event will create a strong interest in bicycle travel in Taiwan.
In addition to the events that will be held during the festival from Nov. 5-13, the festival is being held around the same time that other activities will happen. These activities include the Old Caoling Bikeway Opening Ceremony" on Oct. 30, "International Cyclists Tour", a tour of the area led by international cylists on Nov. 4. Tourists are invited to participate in these events.
To make the 2011 Taiwan Cycling Festival a well-rounded tourism event, the Tourism Bureau has also worked with the Taiwan Railway Administration to organize the "Hualien-Taitung Railway and Bicycle Travel" activity, which combines rail travel with road travel and recreational activities. This markets eastern Taiwan as an area that has created a new recreation option by combining railways with bike routes. Over the months, the Ministry of Transportation and Communications has completed restoration of five major bike routes, including New Taipei City's Old Caoling Bikeway, Yilan County's Dongshan North Bank and South Bank Riverside Bikeways, Hualien County's Qixingtan-Liyutan Bikeway, Taitung County's Guanshan Town Encircling Bicycle Path, and the Shimen-Changbin Bikeway. Be it the newly renovated routes, the improved condition of the roads, the nearby scenery or signage, everything has been revamped to give cyclists a better experience. (For details, please go on this website: http://taiwanbike.tw).
In terms of the itineraries, the Tourism Bureau's East Coast National Scenic Area Administration and travel industry personnel have launched several travel itineraries in the east coast area that allow the public to enjoy bicycling with the sea breeze during the day time, while experiencing the cuisine, music and warmth of local tribal areas at night.
In addition, the Hualien County government has come up with the "Love Hualien Bicycling Carnival"on Nov. 6, 12, and 13 to give tourists a different experience. These activities include an outdoor concert near Liyu (Carp) Lake and a "Farmland and Vanilla Tour".
"The 2011 Taiwan Cycling Festival" will provide a series of activities that will take cyclists and tourists through scenic spots in eastern Taiwan, giving tourists a rich travel experience that will also stimulate the local tourism industry. This festival is expected to attract around 30,000 tourists and generate NT$125 million in tourism revenue. We hope people who love to travel by bike and eastern Taiwan's residents will come out to the festival and have a great time!
###