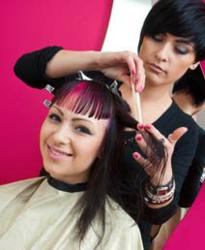 Get a $20 haircut from one of the finest hair stylists in the Twin Cities at May 20 taj salon & spa Cut-a-Thon.
Minneapolis, MN (PRWEB) May 15, 2012
On Sunday, May 20 taj salon & spa will be offering $20 haircuts and $10 eyebrow designs at its Minneapolis location in Seven Corners (1851 Washington Ave S, Minneapolis, MN 55454). Appointments can be made at 612-333-6789. Also grab a meal combo of a hot dog, chips and a soda for just $5.
All proceeds from the Cut-a-Thon will go toward a full scholarship for a deserving student entering the Aveda Institute Minneapolis in fall 2012. The winning scholarship recipient, who will be announced at taj modé 2012 on June 2, will also receive an internship at taj salon & spa. Those unable to attend the event may make donations online.
About the Aveda Institue
The Aveda Institute is renown around the world and maintains a mission to provide a quality, professional education and training to successfully pass the state licensure exam by: creating an environment of trust and respect, encouraging a commitment to teamwork, promoting personal and professional development, and inspiring the continuous quest for knowledge and growth. The Institute provides instruction in the areas of Cosmetology, Esthiology, and Massage.
About taj salon & spa
taj salon & spa is an environmentally responsible, leading-edge salon and spa with locations in Minneapolis and Brooklyn Park, Minnesota. Committed to staying current on all spa techniques and salon styles, taj strives to set the standard for outer and inner beauty. In five short years, taj salon & spa has achieved being in the top 10% of U.S. salons based on revenue and being recognized as one of the largest "family" salons in the Aveda network, which is worldwide.