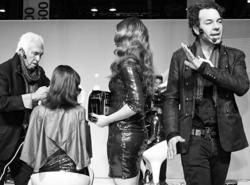 Aveda Institute allowed me to switch directions in my life. Without the scholarship, I might not have had that opportunity.

~ Joel Calfee
Minneapolis, MN (PRWEB) May 10, 2012
taj salon & spa is gearing up to change a life as the May 15 application deadline for its full scholarship to the Aveda Institute Minneapolis approaches. The scholarship is open to students wanting to study Cosmetology, Esthiology and Massage Therapy at the Aveda Institute Minneapolis beginning in Fall 2012.
"Paying for school is hard for a lot of people," says Andria Strandin, one of taj salon & spa's owners. "We just want to help change someone's life, someone who has the same interests and passion that we do."
What does such a person look like? Meet Joel Calfee. Today he is a platform artist and the National Business Development Manager for Bio Ionic®. Before attending the Aveda Institute in the Ann Arbor, Michigan area, Joel was working in an unfulfilling job for an automotive company. The Aveda Institute presented Joel with a new beginning; one in which he could be part of something bigger, something sustainable.
Joel expected some hardships in choosing to attend school at the age of 28. He couldn't quit his job; he was married and owned a house. He also had an hour-long commute from work to school forcing him to choose the Institute's part-time program, which would take longer to complete. Wanting a better option, he applied for a scholarship—a contest he won—and was able to quit his job and attend the Institute full time.
"Aveda Institute allowed me to switch directions in my life. Without the scholarship, I might not have had that opportunity," says Joel. "Grooming is ingrained in people. It's important to most of us and cosmetology is the last service that lets you really touch someone, make a difference in how they look and feel."
Students have begun to post their video applications to the taj salon & spa Facebook page. The winning recipient will be announced at taj modé 2012—taj salon & spa's annual fashion show—on June 2, 2012.
About the Aveda Institue
The Aveda Institute is renown around the world and maintains a mission to provide a quality, professional education and training to successfully pass the state licensure exam by: creating an environment of trust and respect, encouraging a commitment to teamwork, promoting personal and professional development, and inspiring the continuous quest for knowledge and growth. The Institute provides instruction in the areas of Cosmetology, Esthiology, and Massage.
About the taj salon & spa
taj salon & spa is an environmentally responsible, leading-edge salon and spa with locations in Minneapolis and Brooklyn Park, Minnesota. Committed to staying current on all spa techniques and salon styles, taj strives to set the standard for outer and inner beauty. In five short years, taj salon & spa has achieved being in the top 10% of U.S. salons based on revenue and being recognized as one of the largest "family" salons in the Aveda network, which is worldwide.