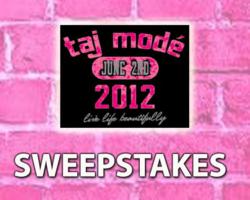 Participating in the Diamond in the Rough Sweepstakes is easy. Begin by viewing the scholarship semi-finalists videos on YouTube. Then enter the Sweepstakes to vote for your favorite.
Minneapolis, MN (PRWEB) May 23, 2012
Today's Aveda students become tomorrow's foremost stylists, fashion experts, and industry leaders. taj salon & spa knows this. That's why the salon wants taj modé 2012 fundraising to go toward a full scholarship to someone who might not otherwise be able to attend the Aveda Institute Minneapolis.
All of the scholarship applications have been submitted. The taj salon & spa owners have narrowed the field to three equally deserving semi-finalists: Erica Spah, Molly Leahy, and Samantha Bruns.
Now taj salon & spa is inviting its Facebook Fans to choose the winner of the taj modé $20,000 scholarship in the taj mode Diamond in the Rough Sweepstakes. Anyone is eligible to participate in the Diamond in the Rough Sweepstakes. The winning participant will receive a luxurious taj salon & spa package including one 60-minute Relaxation Massage, one 75-minute Signature Eminence Facial, one Haircut and Conditioning Treatment, one Shellac Manicure, one Replenishing Pedicure. The winner must be able to travel to Brooklyn Park, Minnesota, for spa services. The Sweepstakes will end on June 2, 2012 at 12:00 noon.
The contest involves the following steps:
1) begin by viewing each of the semi-finalists' application videos on YouTube
2) enter the Diamond in the Rough Sweepstakes and vote for one candidate
3) donate to help taj salon & spa reach the $20,000 goal to cover full tuition at Aveda Institute Minneapolis for the winning scholarship recipient
4) share the sweepstakes with friends
The taj modé scholarship winner will be announced at taj modé 2012 on June 2, 2012 at the Aveda Institute Minneapolis from 6:00 pm to 10:00 pm. The fully choreographed runway show-fundraiser will feature designs by Lulumari—available at taj boutique—and the artistry of beauty experts from taj salon & spa as well as a pre-show by students from Aveda Institute Minneapolis.
Dawn Stebbing, owner of Image Evolution, will emcee the program. The event will also feature music, swag bags to the first 100 in the door, video montages, and a raffle drawing. Tickets are $20 in advance; $25 at the door. Advance tickets may be purchased online at tajsalonspa.com or by calling 763.416.7775.
taj salon & spa thanks this year's sponsors: Image Evolution, Misaki Marketing Communications, Pureology Serious Colour Care, Aveda, EMI Audio, MTL Productions, On Location Video, DJ Ruca, Kincade Dance Industies, Ramone Moreno Photography, Tiger Beer, Joia Soda, Lakeshirts Sportswear, and Chauncey Ellefsen Photography.
About taj salon & spa
taj salon & spa is an environmentally responsible, leading-edge salon and spa with locations in Minneapolis and Brooklyn Park, Minnesota. Committed to staying current on all spa techniques and salon styles, taj strives to set the standard for outer and inner beauty. In five short years, taj salon & spa has achieved being in the top 10% of U.S. salons based on revenue and being recognized as one of the largest "family" salons in the Aveda network, which is worldwide.