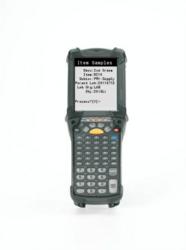 The latest release of Gemini provides Oracle R12 compatibility for both our installed customers and users of Oracle-based mobile solutions.
Princeton, NJ (PRWEB) July 18, 2011
TAKE Solutions Inc., a leader in the Supply Chain Management and Life Sciences domains, today announced the availability of Gemini R12.0c, an upgrade for process and discrete manufacturers to automatically collect data using radio-frequency (RF) devices to increase the availability of information on receiving, shipping, manufacturing and inventory activity as it happens. In the new release, transactions to automate batch manufacturing, quality sampling and lot traceability have been specifically developed to meet the needs of process manufacturers, ensuring speed and accuracy on the shop floor.
Operating within TAKE's environment and Oracle's Mobile Supply Chain Application (MSCA) and WMS environments, Gemini R12.0c enables manufacturers to automatically gather data at the source on mobile devices, reducing the potential for errors, improving control and increasing visibility of key processes as they occur. Gemini R12.0c complements existing Oracle MSCA/WMA functionalities with advanced capabilities in areas such as receiving, inventory management and shipping execution, allowing enterprises to extend their existing Oracle environments without costly modifications to Oracle applications. The result is a supply chain environment precisely tuned to the enterprise's needs, with the flexibility and scalability to adapt to future requirements.
"Enterprise mobility is quickly emerging among manufacturers as a 'must-have' to increase efficiency and productivity within their supply chains," said Grant Woolf, vice president of strategy and business development, TAKE Solutions. "The latest release of Gemini provides Oracle R12 compatibility for both our installed customers and users of Oracle-based mobile solutions to ensure such activity. Our commitment in addressing critical areas of receiving, manufacturing, inventory, shipping and quality within the Oracle mobile environment is solid. As organizations implement Oracle R12, in which process and discrete inventory records are merged into one set of inventory records, process manufacturers find they continue to benefit from Gemini data collection specific to their business needs."
Gemini R12.0c upgrades include:

Improved Inventory Tracking and Barcode Label Generation. With lot-based transaction improvements such as lot status, account issue, and receipt by lot, lot-intensive industries (ie. life sciences; food and beverage) can use labeling and point-of-source data collection to better streamline inventory tracking processes to advance traceability and responsiveness to all quality concerns.
Enhanced Batch Manufacturing. Enables users to track, trace and control shop floor activities specific to process manufacturing, increasing productivity time, improving operational efficiencies, and reducing production costs.
Quality Sample Collection Support. Prints labels to uniquely identify the source and collection time of each quality sample at the point-of-creation. The complete process of creating samples, testing, and evaluating can be performed in real-time, directly from mobile hand-held devices, eliminating cross-over errors, ensuring consistency, and guaranteeing accurate test results are recorded for each quality sample.
Expanded Oracle WMS and MSCA Accelerators. Utilizing warehouse management best practices, expanded WMS accelerators improve material handling within the warehouse, on the receiving dock and throughout the distribution center, reducing ordering processing time, minimizing touch-points, and allowing transactions to be processed in real-time as material is moved.
Gemini's automated data collection capabilities optimize accuracy and efficiency by enabling process and discrete manufacturers to record transactions via handheld RF scanners. By capturing data immediately at the point of origin, Gemini dramatically reduces errors, improves data quality and decreases transaction times, while improving supply chain operations and inventory management. Gemini directly integrates with Oracle EBS, therefore minimizing companies' implementation, training and ongoing support costs.
Pricing
Contact TAKE Solutions for pricing.
Learn more about TAKE Solutions' Supply Chain business here.
About TAKE Solutions
TAKE Solutions is an international business technology company with products backed by a strong domain expertise in Life Sciences and Supply Chain Management. With extensive technology expertise in Business Intelligence and Business Process Management, TAKE's track record in delivering world-class solutions throughout global markets is well proven. Technological innovations have always been the driving force of the company, which in turn helps TAKE's customers achieve consistent growth in business.
Headquartered in Chennai, TAKE primarily drives its SCM Domain Excellence Centre and Global Delivery Centre from India and Middle East. The Company has a strong presence in the USA with the Life Sciences Domain Excellence centre located in Princeton, New Jersey and Supply Chain team based out of Austin, Texas. The Company conducts business today with more than 400 customers worldwide.
TAKE's product suite in the Supply Chain vertical offers 16 unique products with embedded IP that spans the entire gamut of execution, planning and collaboration. In the Life Sciences domain, IP based software & deep understanding in the functional areas of R&D, commercial applications and operations helps TAKE add tremendous value as a partner. TAKE provides life sciences customers a single source for clinical data services, regulatory-compliant technology solutions and safety data systems.
TAKE is assessed at Level 5 of the Capability Maturity Model Integration (CMMI) & Level 3 of the People Capability Maturity Model (PCMM), Software Engineering Institute, Carnegie Mellon University, USA. TAKE is also a Microsoft Gold Certified Partner, an SAP Business Objects Partner, a Charter Member of the Microsoft BioIT Alliance, and along with its subsidiary Applied Clinical Intelligence (ACI), a Registered CDISC Solution Provider, with recognized industry leadership in Microsoft-based Solutions, Regulated Life Sciences, and Supply Chain Management.
# # #