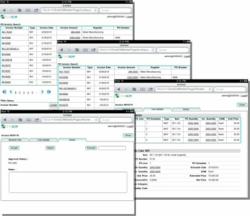 "With the evolution of everything digital…mobility has quickly gained ground in streamlining supply chain execution," said Young Kim, director of product management, TAKE Solutions.
Princeton, NJ (PRWEB) November 09, 2011
TAKE Solutions Ltd. [BSE: 532890 | NSE: TAKE], a leader in the Supply Chain Management and Life Sciences domains, today announced the availability of OneSCM 7.1, a multi-enterprise online collaboration suite for trading partners to manage supply chain operations. The latest version introduces a mobile applications framework that integrates with smartphones and tablets for immediate data access, sharing, and transaction activity in real-time. OneSCM 7.1 supports both .NET and Java architectures, and is now available via a full range of delivery models: on-premise, hosted, software-as-a-service (SaaS) or hybrid.
The new mobile applications framework leverages .NET mobile controls to extend OneSCM collaboration applications on multiple mobile platforms (tablets, smartphones) making applications fully compatible with mobile operating systems (Android, Windows Mobile, RIM and iOS) to better support customer supply chain activities at the work site or on-the-go—saving time, reducing errors, and allowing for quicker response times. Tasks such as processing work orders and checking an invoice status can be done remotely and securely, at any time.
"With the evolution of everything digital…mobility has quickly gained ground in streamlining supply chain execution. Mobility must be integrated into all business processes—especially those nimble workforces who rely on decision makers who are constantly on the move," said Young Kim, director of product management, TAKE Solutions. "In today's fast-paced world, information must be immediately and accurately available. The new version of OneSCM combines the collaboration power of both X.PC and OneSCM to provide trading partners the flexibility, intelligence, and control to execute a smooth orchestration to effectively and efficiently streamline supply chain excution."
Additional upgrades of OneSCM 7.1 include:

Improved XML Framework Standardizations. Pre-configured data mapping in native XML is fully compliant with W3 XSD standards, making integration for sending and receiving business data faster and simpler. Additionally, OneSCM 7.1 supports interaction between trading partners using a variety of messaging formats including RosettaNet PIPs, OAGI DTDs, PIDX (Petroleum Industry Data eXchange), ANSI X12 EDI, EDIFACT and IDOCS.
Supplier On-Boarding Enhancements. Smart search and validation algorithms better manage vendor master data, comparing each new supplier record to suppliers existing in the system to prevent duplication. Document and certification capabilties allow suppliers to electronically submit required certificates and other attachments for supplier approvals.
Multi-language support. Now includes controls, pop-up messages and administration screens allowing for full language support.
Usability Advancements. Advanced filtering and view searches, self-service password resets, and user-defined views have been upgraded to provide ease-of-use and extended customization capabilities.
OneSCM's online platform connects trading partners and aggregates data and activities from multiple back-end systems into a single, consolidated dashboard giving users visibility and control over their supply chain execution.
Learn more about TAKE Solutions' Supply Chain business here.
About TAKE Solutions
TAKE Solutions, Ltd. [BSE: 532890 | NSE: TAKE] is a leading global business technology company with domain expertise in Life Sciences (LS) and Supply Chain Management (SCM). TAKE provides cost-effective and comprehensive solutions for enterprises across diverse sectors including pharmaceuticals, high technology, consumer packaged goods, oil/gas, and automotive. TAKE's SCM product suite includes distinct technology with embedded IP that spans enterprise mobility, trading partner collaboration, and material tracking. In the LS domain, TAKE offers IP-based software and extensive knowledge-based solutions to enable efficient clinical, regulatory, safety and commercialization processes.
TAKE has been recognized as a leader by IDC's MarketScape Worldwide Life Sciences R&D IT Outsourcing for 2011. TAKE's global headquarters is in Chennai, India; its U.S. headquarters is located in Princeton, New Jersey. TAKE has a proven track record as a trusted partner in delivering world-class solutions to more than 400 customers worldwide. For more information, please visit http://www.takesolutions.com.
# # #