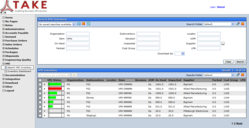 Princeton, NJ (PRWEB) June 13, 2011
TAKE Solutions Inc., leader in the Supply Chain Management and Life Sciences domains, today announced the release of its Xtended Process Control (X.PC) 5.8 supplier relationship management software. The enhanced version advances purchasing cycles by offering new vendor-managed inventory and visibility features that provide external suppliers full-visibility into inventory levels across warehouses and external depots. As a result, suppliers are able to automatically manage and replenish materials to reduce inventory overage and ascertain products are received on time, thus lowering procurement costs, ensuring product availability, and improving efficiency.
X.PC enables organizations to reduce inventory discrepancies by better managing the freight of inbound material and control visibility to all parts not normally tracked in the ERP, as well as ensure product quality through part non-conformance. With the new vendor-managed inventory (VMI) capability, ERP data integration allows for quick views of on-hand quantity and demand from sales orders or manufacturing. In addition, partners can quickly identify and respond to shortages of materials via a color-coded "inventory dashboard," forecasting in 14-day and 12-week timeframes; summary reports can be easily generated to keep track of all VMI activities.
VMI also provides external suppliers with a birds-eye view into warehouses and external depots so on-hand inventory levels are monitored and maintained. Such visibility into supplier inventory levels provides buyers the required intelligence to respond and reschedule if and when supply chain disruptions occur.
"We are seeing organizations shift towards online collaboration as a primary source for conducting inventory transactions between trading partners," said Matt Walker, executive vice president, supply chain, TAKE Solutions. "This latest version of X.PC demonstrates our continued commitment to this space that has proven to reduce order processing time, improve on-time delivery, and save literally millions of dollars annually to our customers' bottom line. Furthermore, we are particularly excited about giving external suppliers more control and visibility into the inventory process."
Additional features and capabilities to enhance such communication include:

Improved Demand Collaboration. X.PC can now be configured to poll one or more sources of demand for materials from integrated ERP systems, enabling trading partners to establish a committed plan so delivery is processed more quickly and efficiently.
Advanced Package Management. Generates unique outer container IDs, providing the ability to track, trace and control multiple smaller packages as a group.
Increased Purchase Order Visibility. Enhanced history displays deliver up-to-date information for purchase order revisions and receipts, reducing time spent addressing inquiries such as order changes, receipts, and returns.
Enhanced Transaction Manager and Service Requests. Improvements provide administrators additional features for uploading transaction data uploads, scheduling tasks, and viewing results.
Desktop Label Printing. Barcoded labels can be generated into PDF files and printed to any thermal or document printer via the desktop, providing more flexibility and efficiency during day-to-day operations.
Pricing and Availability
Xtended Process Control 5.8 is generally available. Contact TAKE Solutions for pricing.
Learn more about TAKE Solutions' Supply Chain business here.
About TAKE Solutions
TAKE Solutions is an international business technology company with products backed by a strong domain expertise in Life Sciences and Supply Chain Management. With extensive technology expertise in Business Intelligence and Business Process Management, TAKE's track record in delivering world-class solutions throughout global markets is well proven. Technological innovations have always been the driving force of the company, which in turn helps TAKE's customers achieve consistent growth in business.
Headquartered in Chennai, TAKE primarily drives its SCM Domain Excellence Centre and Global Delivery Centre from India and Middle East. The Company has a strong presence in the USA with the Life Sciences Domain Excellence centre located in Princeton, New Jersey, and Supply Chain team based out of Austin, Texas. The Company conducts business today with more than 400 customers worldwide.
TAKE's product suite in the Supply Chain vertical is sold under the umbrella brand 'TAKE Supply Chain', which offers 16 unique products with embedded IP that spans the entire gamut of execution, planning and collaboration. In the Life Sciences domain, IP based software & deep understanding in the functional areas of R&D, commercial applications and operations helps TAKE add tremendous value as a partner. TAKE provides life sciences customers a single source for clinical data services, regulatory-compliant technology solutions and safety data systems.
TAKE is assessed at Level 5 of the Capability Maturity Model Integration (CMMI) & Level 3 of the People Capability Maturity Model (PCMM), Software Engineering Institute, Carnegie Mellon University, USA. TAKE is also a Microsoft Gold Certified Partner, an SAP Business Objects Partner, a Charter Member of the Microsoft BioIT Alliance, and along with its subsidiary Applied Clinical Intelligence (ACI), a Registered CDISC Solution Provider, with recognized industry leadership in Microsoft-based Solutions, Regulated Life Sciences, and Supply Chain Management.
# # #