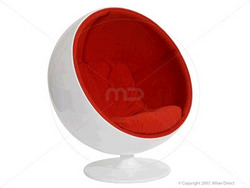 The United Kingdom has a reputation for style, elegance and fine taste, hence making it a perfect market for Milan Direct to enter.
(PRWEB) February 22, 2010
Milan Direct, Australia's number one online store for office chairs, office furniture and modern designer furniture, has recently announced it is expanding its operations into the United Kingdom.
The opening of its Bedfordshire warehouse signals a new era in the young company's story. Beginning in 2006 with just two staff, today the company employees over 10 people and to date has assisted more than 80,000 Australians in furnishing their homes and offices.
Dean J. Ramler, Milan Direct managing director said: "We are delighted to announce Milan Direct's plans for the UK and are very excited about capitalising on the Australian team's expertise to establish ourselves as a serious competitor in the UK furniture market.
"The United Kingdom has a reputation for style, elegance and fine taste, hence making it a perfect market for Milan Direct to enter.
"We pride ourselves on providing our Australian customers champagne tastes at beer prices and we're confident our UK cousins will appreciate the same. Premium furniture, premium living – that's our motto. Our classic designer pieces combine quality, style and affordability – an attractive combination in anyone's book."
Milan Direct's UK launch will initially offer consumers a limited range of its Australian best sellers before eventually commencing sales of the full product range. The range includes many classic pieces such as; Eames chairs, Barcelona furniture, Nelson replica clocks, Noguchi coffee tables, plus many more popular items from its bestselling office chair and office furniture range.
"We have been considering such an expansion for some time and believe now the timing is right. We are going to work hard to deliver what is needed to ensure this expansion is a success. We have chosen the right people with the necessary experience and knowledge of the furniture business to create the perfect infrastructure for Milan Direct UK.
"We plan to replicate our Australian success story," Mr Ramler said.
And Milan Direct is indeed an Australian success story. Based on a revolutionary concept and business model, Milan Direct deals directly with overseas manufacturers, in the process cutting many links in the supply chain. By eliminating what are often significant 'middle men' costs, real savings are able to be passed onto consumers. It's a model that works, with thousands of satisfied Australian customers and over 300,000 pieces of designer furniture sold to date; Milan Direct continues to go from strength to strength.
The expansion is also a plus for Australian consumers; an increased customer base equals increased bargaining power and lower prices, as Milan Direct's ability to buy in ever larger quantities increases.
"In the excitement over our UK expansion we haven't forgotten about our loyal band of Australian customers. Milan Direct is Australia's largest supplier of modern classic designer furniture so of course our Australian customers will continue to remain a top priority.
"We are pleased that this expansion will in turn allow us to offer our Australian customers better deals on some of our most stylish and elegant furniture pieces for the home or office.
"Our ultimate goal at Milan Direct has been, and always will be, to provide maximum value for our customers, now, whether they live in Australia or the United Kingdom," said Mr Ramler.
All products in the Milan Direct range are premium-end reproductions of modern-retro classics. The ever growing and evolving product range is selected based on functionality, purity of form and aesthetic beauty. Milan Direct is Australia's number one online store for replica furniture and high quality reproduction furniture.
To find out more about the Milan Direct business concept, its furniture range or to learn more about the most influential designers of the 20th century and their pieces - pieces which have stood the test of time visit http://www.milandirect.com.au.
###